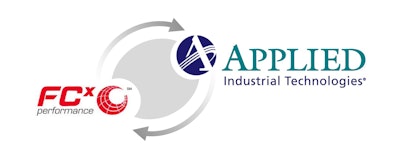 CLEVELAND, OH — Applied Industrial Technologies announced Thursday it has completed the previously-announced acquisition of FCX Performance, a distributor of specialty process flow control products and services.
Based in Columbus, OH, FCX Performance operates 68 locations with more than 1,000 team members. The total purchase price of the acquisition after contractual working capital adjustments was approximately $784 million — up 2.1 percent from the price of $768 million Applied stated in its initial announcement — and was financed with a new credit facility comprised of a $780 million Term Loan A and a $250 million revolver.
In conjunction with this announcement, the company has updated its guidance regarding the impact of the acquisition on its fiscal year 2018 results. The transaction is expected to be dilutive in fiscal year 2018 (ending June 30) by $0.11 to $0.21, which represents an approximate $0.05 per share improvement from the initial guidance provided on Jan. 9. The updated guidance includes the adverse impact of $0.12 to $0.13 in one-time transaction related cash charges This results in update EPS guidance for fiscal year 2018 of $3.19 to $3.39 per share, on sales that are anticipated to be 15 to 16 percent higher year over year inclusive of the acquisition.
The acquisition is anticipated to contribute approximately $557 million in sales and $68 million in EBITDA in the first 12 months of Applied's ownership, prior to recognition of one-time transaction-related charges. Full-year cash flow from operations for the first 12 months of Applied's ownership is expected to approximate 0.95x to 1.0x expected EBITDA.
Neil A. Schrimsher, President & Chief Executive Officer, commented, "We are pleased to complete this transaction and welcome FCX to the Applied organization. Our combined product offering and value added capabilities further enhance our differentiation, and provide significant opportunities for growth. We look forward to working with the FCX team and building on our strengths to serve our customers and create value for all of our stakeholders."
Applied is No. 12 on Industrial Distribution's Big 50 List, while FCX is No. 30.