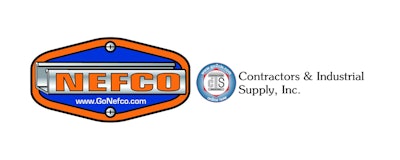 HARTFORD, CT — The NEFCO Corporation, a distributor of construction and industrial supplies, has announced its acquisition of Contractors & Industrial Supply, Inc., a dynamic specialty construction distributor servicing the Southern Virginia and North Carolina markets.
"We are focused on continuing to provide the absolute best customer experience for the contractor," said President and CEO of The NEFCO Corporation, David Gelles. "The strategic addition of CIS aligns perfectly with our family culture and mission to serve as an invaluable resource for our customers by providing quality products, reliable service and technical expertise," said Mr. Gelles. "The fact that the top management group at CIS and all of their highly-skilled and well-trained employees are jumping on board with us is a huge plus."
"The growth of the NEFCO brand into Virginia and North Carolina gives us a greater foothold within the Mid-Atlantic States," continued Mr. Gelles. "With the addition of the three CIS locations in Greensboro, NC; Roanoke, VA; and Harrisonburg, VA; NEFCO will now have 10 strategically located distribution centers allowing us to leverage our unmatched breadth of product solutions and value-added services to general and specialty contractors up and down the East Coast."
"We are just getting started," Matthew Gelles, NEFCO's Director of Business Development affirmed. "Although we have been averaging consistent double-digit, year-over year growth since our inception in 1981, we feel that we are still in the beginning of our growth story at NEFCO. The addition of Tekk Supply (Southern Florida) in October and now CIS is a critical step in our strategic growth plan, and we feel there are tremendous growth opportunities that lie ahead for NEFCO."
Since 1986, Contractor & Industrial Supply has been focused on servicing commercial and industrial contractors with a core competency in the mechanical, electrical and plumbing trades.
"We have heard about NEFCO for years," CIS President Pete Moses said. "To join forces with NEFCO is a perfect opportunity for our team. This combination will turbo charge our business and improve our capacity to support our current customers and many more to come."
NEFCO has distribution centers located in Boston, Hartford, New York City, Albany, Philadelphia, Washington D.C, Fort Lauderdale, Greensboro, Roanoke, and Harrisonburg. These strategically located branches ensure next day delivery to the contractor's jobsites.