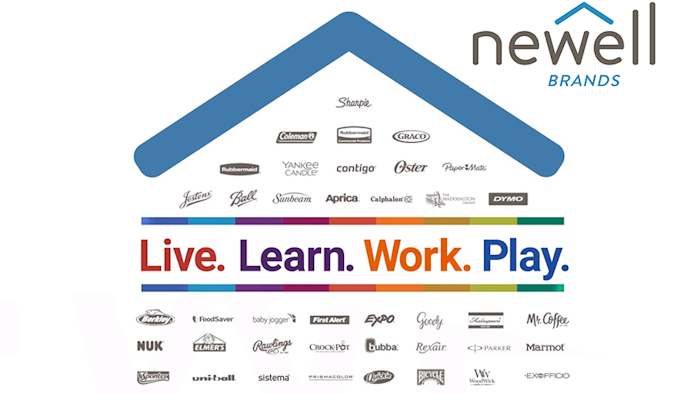 Newell Brands Inc. — perhaps best known for products like Sharpie markers, Graco baby strollers, Rubbermaid containers and Elmer's glue — announced a series of strategic initiatives on Friday that include selling off a number of industrial and commercial brands.
The Hoboken, NJ-based company said it aims to focus its portfolio on nine core consumer divisions with approximately $11 billion in sales and $2 billion of EBITDA, while "exploring strategic options" for industrial and commercial product assets that include Process Solutions, Waddington, Rubbermaid Commercial Products and Mapa, as well as for smaller consumer brands including Rawlings, Goody, Rubbermaid Outdoor, Closet, Refuse and Garage and U.S. Playing Cards.
Newell Brands execution of those options would result in a 50 percent reduction in the company's global factory and warehouse footprint, a 50 percent cut in its customer base and the consolidation of 80 percent of global sales on two ERP platforms by the end of 2019. If completed, the resulting company would be an $11 billion portfolio of consumer-facing brands. Newell Brands intends to begin the evaluation process immediately and expects any resulting transactions to be completed by the end of 2019.
"Today's announcement is a step toward a significant acceleration in our transformation plan," Newell Brands CEO Michael Polk said. "We believe that exiting non-strategic assets, reducing complexity and focusing on our key consumer-focused brands will make us more effective at unlocking value and responding to the fast-changing retail environment. "A stronger, simpler, faster Newell, together with leading brands, brilliant marketing, outstanding innovation and an advantaged e-commerce capability, better positions us to win in these dynamic times. As a result, we have chosen to explore these strategic options."
In March of 2017, Stanley Black & Decker completed its purchase of Newell Brands' Tools business for $1.95 billion. That businiess included the industrial cutting, hand tool and power tool accessory brands Irwin, Lenox and Hilmor.
In Friday's announcement, Newell Brands also shared its preliminary estimated fiscal results for full year 2017. Core sales grew approximately 0.8 percent — missing its provided outlook of 1.5 to 2.0 percent.