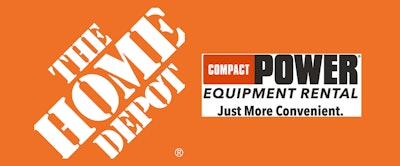 Home Depot is making another move to boost its offering to professional customers, as the home improvement retailer announced Thursday that it has agreed to purchase Compact Power Equipment Inc. for $265 million.
Headquartered in Fort Mill, SC, Compact Power is a national provider of equipment rental and maintenance services and has been a commercial partner of Home Depot since 2009. In early 2015, it surpassed 1,000 stores across the U.S. and Canada.
Home Depot said the transaction is expected to close by the end of its fiscal second quarter.
"We've worked closely with the talented team at Compact Power Equipment for many years and are delighted to welcome them to The Home Depot family," said Craig Menear, chairman, CEO and president of The Home Depot. "The acquisition allows us to further improve the customer experience — in particular for Pros — through enhanced equipment and tool rental offerings. It also allows us to grow Compact Power's best-in-class building services capabilities."
Home Depot's press release Thursday mentioned that the retailer offers tool and equipment rentals at more locations in the U.S. and Canada than anyone else, with its large assortment of rental offerings saving customers from the cost and hassle of maintenance and storage.
"With a collective focus on convenience and execution, together our companies will be even stronger to serve customers while remaining on the cutting edge of life-cycle management for commercial equipment," said Roger Braswell, CEO, Compact Power.
"This acquisition creates many exciting opportunities for our employees and customers as we enter the next stage in our company's history. We are thrilled and truly look forward to joining The Home Depot team and growing this business," added COO Richard Porter.
The acquisition is Home Depot's biggest maintenance-bolstering move since its 2015 purchase of MRO products distributor Interline Brands — No. 18 on Industrial Distribution's Big 50 List — back in 2015 for $1.63 billion. The move comes roughly two months after Home Depot's biggest U.S. competitor, Lowe's, announced a $512 million purchase of Maintenance Supply Headquarters, a distributor of MRO products to the multifamily housing industry.
Home Depot's 2017 first quarter sales increased 4.9 percent year-over-year, while profit increased 11.1 percent.