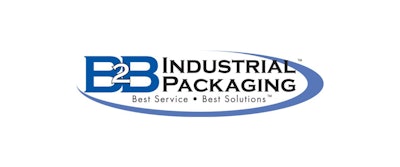 ADDISON, IL — B2B Industrial Packaging recently announced that it has acquired Alpine Distribution's Packaging Division, a major supplier of strapping products and equipment with warehouses and sales offices is Portland, OR and Eugene, OR This is the fifth major acquisition in seven years for B2B Industrial Packaging.
Clients of both companies will notice only positive changes. Alpine President Gary Omlid said, "Alpine clients will benefit from B2B Industrial's financial strength, enhanced product offering, and commitment to make Alpine the industry leader in the Pacific Northwest."
Alpine has been one of the largest distributors of strapping and packaging solutions in the Pacific Northwest since 1982. It has a deep bench of clients across several industries that have relied on the company for consistently high quality products and service.
Prior to the acquisition, B2B Industrial Packaging was already the number one distributor of strapping in the U.S. This acquisition will solidify that position, while adding to the product line which already includes a wide range of packaging and fastening equipment and supplies for industries that include construction, manufacturing, distribution, agriculture and more.
Alpine's leading packaging sales reps Linda Gibson and Randy Stout together have over 50 years of experience in packaging equipment and tool repair. Their strong customer service commitment will ensure a seamless transition for Alpine's packaging clients. The Alpine sales team joins B2B Industrial Packaging's West Coast sales team whose nine members average more than 25 years of packaging experience.
B2B Industrial Packaging also operates the largest tool repair facility in the Midwest, which services clients from the West Coast to the East Coast. Certified technicians are able to diagnose and repair a wide range of tools and equipment used in packaging and construction. This includes strapping tools, nail and staple guns, drills, air compressors, generators, and much more. The acquisition will allow B2B Industrial Packaging to expand Alpine's current tool repair facility.
Previous acquisitions include: Western Metals and Pac Fast in California; and the Lesker Corporation and Anasco, Inc. in Illinois.
B2B Industrial Packaging President Bill Drake said, "This is a great fit for both companies. Alpine Packaging is a great Pacific Northwest business led by talented professionals dedicated to serving their clients' needs. I have had the pleasure of working with my friends at Alpine for many years so I know that both businesses will be stronger as a result of this acquisition. Alpine Packaging will have the financial strength and depth of products required to significantly grow the business. B2B Industrial will have the geographic base needed to build a strong presence in the Pacific Northwest."
About B2B Industrial Packaging LLC (www.B2Bind.com)
Servicing more than 6,000 active clients, B2B Industrial Packaging sells a full range of packaging equipment and supplies including steel strapping, stretch film, and fasteners to clients primarily in the Central Great Lakes, the Central Plains, the Pacific Northwest, California, Texas, North Carolina, and Mexico. B2B Industrial Packaging is unique in that it also operates a state-of-the-art strapping and fastening tool repair facility that services the entire U.S. To contact B2B Industrial Packaging, call 877-222-5747 or visitwww.B2Bind.com.