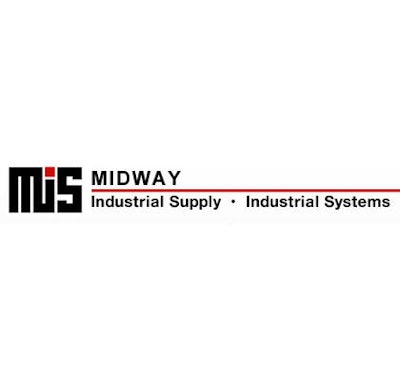 MINNEAPOLIS — Midway Industrial Supply, Inc., a Midwestern distributor of fluid handling and spray finishing systems and equipment, recently announced the acquisition of Contrast Equipment Company.
Contrast Equipment, a finishing equipment systems integrator based in Kansas City, MO, gives Midway a key strategic partner and expanded market share in the lower Midwest. The company provides in-house paint system design engineering, customer laboratory testing and full service paint finishing systems and products to manufacturing customers in Missouri, Kansas and surrounding states.
"Contrast's reputation as a solutions-driven, liquid and powder coating system integrator, coupled with their excellent customer relationships, will enhance our company's growth and allow us to expand into new markets," said Patrick Hoolihan, President and CEO of Midway Industrial Supply.
Midway distributes liquid and powder electrostatic and conventional spray finishing systems and equipment for manufacturing clients across the country. Key product lines include Graco, Binks, DeVilbiss, Nordson, Ransburg and Global Finishing Systems.
The acquisition also gives Contrast the resources to grow into a larger regional player. "The decision to sell Contrast to Midway made strategic sense to our customers and employees," said Bob Borman, Owner and President of Contrast Equipment. "The synergies created by this acquisition provide both companies with expanded business opportunities."
Midway's acquisition of Contrast will have little impact upon either company's existing structure or day-today operations. Contrast's employees and management team will continue to manage the operation while working closely with Midway in the integration of the two companies. Contrast will remain at its current Kansas City facility and Midway shall remain in the Twin Cities, at its existing Mounds View, MN location.
Contrast Equipment will operate as a wholly-owned subsidiary of Midway under the name Contrast Equipment, Incorporated. Midway Industrial Supply, Inc. is owned by Generation Growth Capital (GGC), a private equity fund based in Milwaukee, WI, that invests in small businesses. GGC and Midway remain focused on continuing the strategic growth and expansion of the Midway platform.
Senior financing was provided by Anchor Bank. Terms of the transaction were not disclosed.