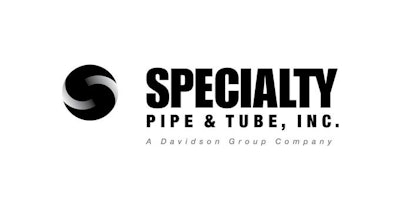 SPARTANBURG, S.C. — Synalloy Corporation (Nasdaq:SYNL), a growth-oriented company that engages in a number of diverse business activities including the production of stainless steel pipe, fiberglass and steel storage tanks, and specialty chemicals, has announced that it has acquired Specialty Pipe & Tube, Inc. Specialty is a master distributor of seamless carbon pipe, with a focus on heavy wall, large diameter products. End markets for its products include oil and gas, heavy equipment, and other industrial businesses where high-pressure applications are required.
Specialty was established in 1964 and has distribution centers in Mineral Ridge, Ohio and Houston, Texas. The company generates approximately $30 million in annual revenue and has fewer than 30 employees. The transaction will be accretive to Synalloy's earnings in the first year following the closing. BB&T Capital Markets served as the exclusive financial advisor to Specialty.
The all-cash transaction is valued at $31.5 million, subject to working capital adjustments post-closing, and potential earn-out payments up to $5 million over two years should the business unit achieve targeted sales revenue.
The acquisition was funded with a combination of cash on hand, additional term debt ($10 million with a five year maturity), and an increase in the company's line of credit from $25 million to $40 million. Synalloy estimates that its total net debt at the end of 2014 will be approximately $35.4 million.
Including the acquisition of Specialty, Synalloy's guidance for 2015 is as follows:
  Total Revenue - $232 million (Q1 - $56 million; Q2 - $57 million; Q3 - 

$60 million and Q4 - $59 million)

  Gross Profit - $43 million (Q1 - $10 million; Q2 - $11 million; Q3 - $12 

million and Q4 - $10 million)

  Adjusted EBITDA - $28.5 million (Q1 - $6 million; Q2 - $7.5 million; Q3 - 

$7.5 million and Q4 - $7.5 million)

  EPS - $1.54 (Q1 - $.36; Q2 - $.38; Q3 - $.41 and Q4 - $.39)
Synalloy projects that EPS will increase by approximately $.40 per share over 2014, with half of the increase coming from organic growth and the other half coming from the acquisition of Specialty.
For more information about Synalloy Corporation, please visit its website at www.synalloy.com.