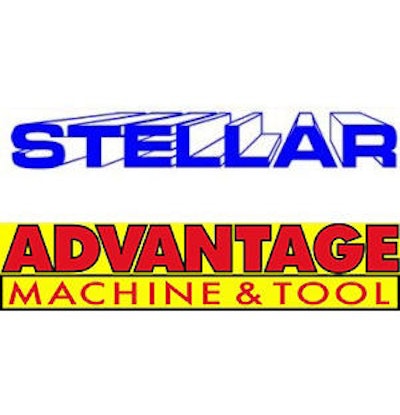 TACOMA, WA — Stellar Industrial Supply announced Tuesday the signing of a definitive agreement to join forces with Advantage Machine & Tool, Inc. The closing of the transaction is scheduled for Dec. 31, 2014. Terms were not disclosed.
"The combination of two excellent industrial supply companies will provide great benefits to all of our constituents, including our customers, employees and vendors. We will be able to provide a broader and deeper array of supplies and services to our customers with our combined companies. This will make us much stronger in our highly competitive market," said John S. Wiborg, President of Stellar. "Advantage Machine & Tools is an excellent company, with a reputation for providing its customers with quality products at the highest service levels.  They have experienced and dedicated employees. The combination of Stellar and AMT will result in Stellar having a wider presence in the MRO, safety supply, cutting tools and abrasives business."
According to Jim Downs, President of Advantage Machine & Tool, "We feel that this transaction makes a great deal of sense for all concerned or affected by it.  We will be working very hard to ensure the transition from two organizations to one is as smooth and seamless as possible. I am confident that this is a very positive direction for our company and will be of great benefit to our customers, employees and vendors. I am looking forward to serving our customers, vendors and employees in the future with the same level of honesty, straightforwardness and commitment they have come to know."
After the combination is completed, Stellar, headquartered in Tacoma, WA, will have approximately 150 employees. Stellar will have a total of eleven branches; in addition to the headquarters facility in Tacoma, Stellar will have the following branches; Portland, OR, Albany, OR, Eugene, OR, Everett, WA, Ferndale, WA, Seattle, WA, Spokane, WA and Pasco, WA, Upland, CA, and Billings, MT.
Stellar was founded in 1988. Stellar distributes over 35,000 MRO, metal working, safety, and marine supplies to general manufacturing and processing, machine and metal working shops, marine and construction organizations throughout the West Coast and in several areas elsewhere in the U.S. Stellar offers a broad array of hand tools, power tools, cutting tools, abrasives, aerosol chemicals and paints, shop supplies, safety, marine, and construction supplies. Stellar is a member of Affiliated Distributors and the Industrial Supply Association.
Advantage Machine & Tool is headquartered in Billings, MT. The Company was founded in 2000 and provides machine and tooling solutions to a broad array of industries throughout Montana, Wyoming, Idaho, North Dakota, South Dakota, Colorado, and Utah. The company has developed a specialty in the cutting tools arena and is well regarded by customers for their great relationships and technical capabilities.