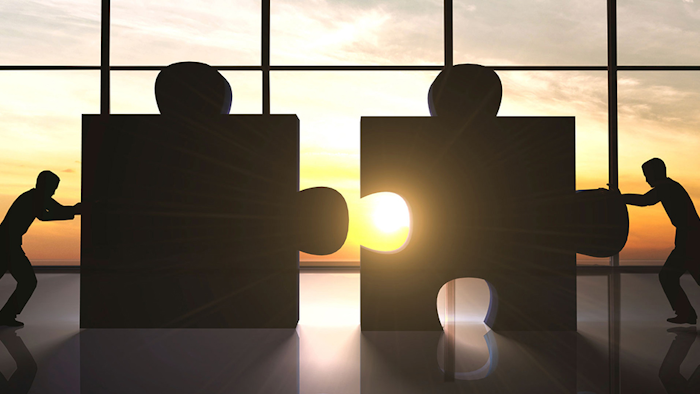 As we forge ahead into 2018 and market indicators continue to look positive for the year ahead, let's take a look back on the merger & acquisition-related deals that occurred during the fourth quarter of 2017.
Below is a chronological recap of M&A activity that occurred in Q4 2017. Of course, this doesn't cover every deal that's happened, as not every distributor or supplier acquisition is made public. I've also included divestments in this list. Some of these deals were finalized earlier, but weren't announced immediately. And, while some of the companies involved here aren't 'industrial' distributors or suppliers by definition, they are still relevant enough to the market to warrant inclusion.
We posted 41 M&A news items in Q4, which surprisingly considerably outpaces the 32 posted in Q3 and 35 posted in Q2. As expected, the pace of M&A news slowed throughout Q4, with 17 items in October, 13 in November and 11 in December.
October (17)
Carlisle Companies Acquiring Accella Performance Materials for $670M: Scottsdale, AZ-based Carlisle Companies, a global provider of commercial and industrial building envelope products, has acquired Accella Performance Materials from Arsenal Capital Partners for $670 million in cash. Accella Performance Materials offers a wide range of polyurethane products and solutions across a broad diversity of markets and applications. Accella, headquartered in Maryland Heights, MO, has annualized revenue of approximately $430 million with pre-synergy estimated transaction EBITDA margins approaching 15 percent.
Reliance Steel & Aluminum Acquires Ferguson Perforating Company: Effective Oct. 2, Los Angeles-based Reliance Steel & Aluminum Co. has acquired all of the common stock of Ferguson Perforating Company through Diamond Manufacturing Company, a wholly-owned subsidiary of Reliance, for an undisclosed amount. Founded in 1927, Ferguson manufactures perforated metal parts for numerous applications in domestic and international markets. Ferguson specializes in producing highly engineered and complex perforated metal for diverse end markets ranging from aerospace and automotive to industrial machinery, consumer electronics manufacturers and sugar producers. The company is headquartered in Providence, RI and operates an additional facility in New Castle, PA. For the year ended Dec. 31, 2016, Ferguson's net sales were approximately $31 million.
Ace Hardware Acquires E-Commerce Startup The Grommet: Ace Hardware Corporation and The Grommet announced Tuesday that Ace Hardware has completed its acquisition of a majority stake in e-commerce startup, The Grommet. The Grommet operates an e-commerce website that markets and sells new and innovative products created by independent entrepreneurs, also known as Makers. It has discovered and launched dozens of now household brand names, including FitBit, IdeaPaint, OtterBox, SimpliSafe and SodaStream. To date, The Grommet has launched more than 2,500 innovative consumer products and amassed a community of more than three million early adopters and supporters.
Winsupply Acquires FL-Based Plumbing/Electrical Distributor: Winsupply Inc. has acquired Live Oak, FL-based Certified Plumbing and Electrical Supply Co. Inc., a regional distributor serving plumbing and electrical contractors in northern Florida. Terms of the acquisition were not disclosed. No. 10 on Industrial Distribution's 2017 Big 50 List, Winsupply is one of the nation's largest distributors of supplies and materials to residential and commercial construction and industrial markets. Certified Plumbing and Electrical Supply has three locations along Florida's I-10 corridor including Live Oak, Lake City and East Point.
Lawson Products Acquires Calgary-Based The Bolt Supply House: MRO products distributor Lawson Products, No. 37 on Industrial Distribution's Big 50 List, announced the acquisition of The Bolt Supply House Ltd., based in Calgary, Canada, for a purchase price of approximately $32 million. Founded in 1948, The Bolt Supply House is a Canadian distributor of high-quality fasteners, power tools and industrial MRO supplies, with annual sales of approximately $34.4 million. The Bolt Supply House's 13 branch locations and 27 sales territory managers serve companies and professional tradespeople in Alberta, Saskatchewan, and Manitoba, Canada. The transaction marks Lawson Products' fifth and largest acquisition in 24 months and more than doubles its sales in Canada.
3M Completes $2 Billion Acquisition Of Scott Safety: 3M has completed its previously announced acquisition of Scott Safety from Johnson Controls for a total enterprise value of $2.0 billion. Scott Safety is a manufacturer of innovative products, including self-contained breathing apparatus (SCBA) systems, gas and flame detection instruments and other safety devices that complement 3M's personal safety portfolio.
ParkOhio Acquires U.K Fastening Supplier Heads & All Threads: Cleveland, OH-based industrial products and supply chain services supplier ParkOhio has acquired Birmingham, United Kingdom-based Heads & All Threads Ltd. — a European supplier of fastening products and supply chain inventory programs. Founded in 1986, Heads & All Threads has operations in the U.K., Czech Republic, Poland and India. It specializes in developing vendor-managed inventory programs of fasteners, machined parts and other class C components to end marks including construction, automotive and EMS. ParkOhio said Heads & All Threads has annual sales of about $35 million.
Camso Expands Southern U.S. Presence, Acquires Stanley Industrial Tires: Magog, Quebec-based Camso continues to grow its tire service and distribution presence in Texas and Louisiana with the acquisition of Stanley Industrial Tires. With a strong and dedicated team of tire specialists and service technicians in three locations in Texas (Dallas, Waco, and Gladewater) and one in Louisiana (Shreveport), Stanley Industrial Tires is a considerable addition to Camso's existing footprint.
Connecticut-Based NEFCO Corp. Acquires Florida's Tekk Supply: Hartford, CT-based The NEFCO Corporation, an independent distributor of electrical, mechanical, HVAC and sprinkler products, has opened its first Florida branch in the greater Miami/Ft. Lauderdale metropolitan area after acquiring the operating assets of Tekk Supply, Inc. The acquisition enables NEFCO to expand its market reach into South Florida. Tekk Supply is a full-service, contractor-focused supply company stocked for the construction trades. TSI has significant experience supplying construction professionals in South Florida.
Earlbeck Gases & Technologies Acquires Scranton, PA's Cristiano Welding Supply: Baltimore, MD-based welding products distributor Earlbeck Gases & Technologies has announced the acquisition of Scranton, PA-based Cristiano Welding Supply — a single-location distributor of welding supplies that will continue to do business under their current name. All staff members are being retained. Earlbeck said that the partnership with Cristiano will allow it to provide a wider array of services and products to customers within the mid-Atlantic region, as well as make operational improvements.
Honeywell To Spin Off Businesses Worth More Than $7 Billion: Honeywell announced Oct. 10 the results of its comprehensive portfolio review, including its intention to separately spin off its Homes product portfolio and ADI global distribution business, as well as its Transportation Systems business, into two stand-alone, publicly-traded companies. The planned separation transactions are intended to be tax-free spins to Honeywell shareowners for U.S. federal income tax purposes and are expected to be completed by the end of 2018.
Fluid Power Distributor Triad Technologies Acquires Rilco Industrial Controls: Vandalia, OH-based Triad Technologies, a distributor of fluid power and automation products, announced it has acquired Rilco Industrial Controls, Inc. and all its subsidiaries, including E&M Automation Equipment Co. and Cincinnati Controls, Inc. to further expand its product offering in key markets. Rilco is headquartered in Cincinnati, OH where it has served regional customers since 1979. Rilco, an industrial automation solutions provider serving Southern Ohio, Northern Kentucky and Eastern Indiana, specializes in sensing technologies for manufacturing processes. Rilco is an authorized distributor for sensors, safety controls, process controls, and bar code reader systems.
Riverside Tool Acquires R2 Tool; Marks 3rd Bolt-On In 2017: Riverside Tool Corp. announced the acquisition of R2 Tool for an undisclosed amount. Both companies are based in Elkhart, IN. R2 Tool was founded just last year by Johnny Migedt. It services and makes cutting tools for wood, plastic and non-ferrous metals. Riverside specializes in custom profile tooling using carbide, Riverloy and PDC (diamond) materials. It was acquired by Techniks Industries in June of 2016.
AHB Tooling & Machinery Acquires Machinery Sales Division Of Westbrook Engineering: Roseville, MI-based AHB Tooling & Machinery, Inc. has announced the acquisition of Westbrook Engineering's new machinery sales division, effective Oct. 2. The acquisition of Westbrook reinforces AHB's position as a full-service metalworking distributor, deepening AHB's range of machinery offerings and expertise.
Anderson Process Acquires Detroit's American Controls Inc.: Brookfield, WI-based Anderson Process, a supplier of process equipment and services, has acquired American Controls, Inc., a long-standing pump distributor and service provider in the Michigan and Northern Ohio regions. The acquisition is being completed to capitalize on complementary product and service offerings between the two companies and continue Anderson Process' initiative of becoming one of the Midwest's largest dedicated process equipment distributors in both size and reach.
Cleveland-Based Brennan Industries Acquires Canada's Versa Fittings: Cleveland, OH-based Brennan Industries Inc. has announced the acquisition of Versa Fittings Inc., a manufacturer and distributor of fittings and tubing based in Missisauga, Ontario. The acquisition will increase Brennan's distribution and manufacturing footprint in North America, while providing new market exposure for both Brennan and Versa product lines.
MRO Distributor Winzer Corp. Privately Acquired By Shoreview Industries: Minneapolis, MN-based investment firm ShoreView Industries has announced it is acquiring Plano, TX-based Winzer Corporation — a distributor of maintenance repair supplies — for an undisclosed amount. According to ShoreView, Winzer is a general line distributor of fasteners and consumable maintenance supplies. The company serves customers engaged in MRO activities across a diverse range of end markets including industrial, automotive, institutional and government.
November (13)
Continental Acquires Custom Machining Services To Expand Industrial Hose Capabilities: Technology company Continental has acquired Custom Machining Services, Inc. in order to expand its range of services for the industrial hose industry. Valparaiso, IN-based Custom Machining Services has been in business since 1979 and has been producing hose assembly equipment, crimpers and dies since 1984. Terms of the acquisition were not disclosed.
F.W. Webb Acquires New York's Harbor Plumbing & Heating Supply: F.W. Webb Company, No. 18 on Industrial Distribution's Big 50 List, is adding another location in New York with the acquisition of Harbor Plumbing & Heating Supply in Mamaroneck. A single-location wholesaler serving residential and commercial contractors for the past 17 years, Harbor Plumbing & Heating Supply is a family-owned business.
Würth Industry North America Acquires Weinstock Bros. To Boost Fastening Portfolio: Würth Industry North America (WINA) is strengthening its structural fastening portfolio and has acquired Weinstock Bros., Inc. in Valley Stream, NY. Weinstock Bros. serves the needs of some of the world's leading steel fabricators and erectors. Weinstock Bros. — with more than a century of experience — has earned the reputation of a go-to supplier and specializes in supplying high strength structural bolts, tools and equipment for some of the most demanding structural steel building and bridge construction projects.
HD Supply Waterworks Buyer Now Acquiring SunSource: Private investment firm Clayton, Dubilier & Rice (CD&R) — the same firm that bought HD Supply Waterworks (now Core & Main) for $2.5 billion this summer — announced that it is acquiring the majority of SunSource Holdings, one of the largest distributors of hydraulic and pneumatic fluid power products in the U.S. and Canada. Terms were not disclosed.
Justrite Acquires First Safety, A WI-Based Gas Cylinder Safety Supplier: Des Plaines, IL-based Justrite, a manufacturer of products for the safe management of flammable liquids and other hazardous materials, has announced the acquisition of Janesville, WI-based First Safety Corporation, which supplies equipment for gas cylinder handling to the industrial, safety and scientific markets.
Winsupply Acquires HVAC & Apartment Maintenance Supplies Distributor APCO: Winsupply has purchased APCO Inc., a Lansing, MI-based broad line distributor of heating, ventilation and cooling, plumbing, and apartment maintenance supplies. Terms of the purchase were not disclosed. APCO has nine locations, with two doing business as APCO Supply and seven as Michigan Temperature Supply. APCO Supply is a distributor of building furnishings and maintenance supplies to multi-tenant industrial, commercial and residential complexes throughout Michigan and Indiana.
The Hillman Group To Acquire Texas' ST Fastening Systems: The Hillman Group has acquired Hargis Industries, LP, doing business as ST Fastening Systems, a specialty fastener manufacturer and distributor based out of Tyler, TX. STFS's products are sold to metal building fabricators, hardware wholesalers, and building products distributors in the U.S.
Ohio Transmission Corp. Acquires PK Controls: Ohio Transmission Corporation, an industrial equipment service provider and distributor has acquired Plain City, OH-based PK Controls, Inc. PK Controls is an engineering and services company that specializes in factory automation and controls OTC is No. 33 on Industrial Distribution's Big 50 List.
McNaughton-McKay To Acquire The Reynolds Co., Creating Top 10 Electrical Distributor: Electrical distribution company McNaughton-McKay Electric Co., headquartered in Madison Heights, MI, has agreed to acquire Fort Worth, TX-based The Reynolds Company. Upon completion, the newly-combined company will be a multi-region, top 10 electrical distributor with more than 1,300 employees serving customers from 41 locations in the Midwest, Southeast and South Central areas of the U.S.
Ingersoll-Rand Acquires Energy Storage Supplier CALMAC: Ingersoll-Rand, a global provider of comfortable, sustainable and efficient environments, has announced that it has acquired CALMAC Corporation, a privately held company specializing in cool energy technologies including IceBank storage tanks.
FCX Performance Announces Acquisitions In Houston And Charlotte: FCX Performance, a specialty flow control distributor serving OEMs, EPCs and end-users across the industrial process, energy and high purity industries, announced that it has acquired Eads Distribution, based in Houston, TX and The Massey Company, headquartered in Charlotte, NC. Eads Distribution is one of the foremost flow control distributors of instrumentation and valves in the U.S., while The Massey Company brings years of specialty flow control experience and expertise to the FCX Performance portfolio. FCX Performance is No. 30 on Industrial Distribution's Big 50 List.
Brighton Best Acquires Ironclad Performance Wear, Australia Fastener Supplier: Brighton Best International made two acquisitions in November. Farmers Branch, TX-based Ironclad Performance Wear — a supplier of performance hand safety solutions announced that it has been acquired by BBI for an undisclosed amount. Originally founded in 1998 in El Sugundo, CA, Ironclad specializes in manufacturing task-specific PPE gloves for industries including oil & gas extraction, automotive, police, fire, first-responder military and more. BBI has also closed on an acquisition of Girraween NSW, Australia-based Koala Nails, a supplier of construction fasteners. Koala Nails began operations in 1981. Operating out of three warehouses, its product line includes: Collated screws, Loose screws, Framing Nails, Coil Nails both plastic Sheet and wire collated, Collated brads, Collated staples, Pneumatic air nailers & Staplers, Nylon Nail-it plugs and Mickey pins, Split drive anchors, Tie wire anchors and Hammer drive alloy anchors.
US Wire & Cable Acquires Voltec Power & Lighting: US Wire & Cable Corporation announced its strategic acquisition of Voltec Power & Lighting Corporation and its affiliates. Voltec will carry on its daily operations without any changes, and Tom Miller, who founded the company in 2001, will continue to serve as President. Both are family-owned companies with decades of experience and their new partnership strengthens their industry leadership.
Emerson Pulls Latest Rockwell Bid Following Rejection: Emerson Electric is withdrawing its latest unsolicited takeover bid for Rockwell Automation following a series of rejections from the industrial automation company. Milwaukee-based Rockwell rejected the latest offer, saying that it undervalues the company and its prospects for growth. Emerson's latest offer stood at $225 per share, consisting of $135 per share in cash and $90 per share in Emerson stock. The total value was about $29 billion. In October Rockwell Automation rejected an offer then worth $215 per share, or $27.61 billion. Emerson's original bid of $200 per share was made in August.
December (11)
Fairmont Supply Acquires PVF Distributors In Nebraska & Oregon: MRO products distributor Fairmont Supply Company, No. 49 on Industrial Distribution's Big 50 List, has announced that Industrial Pipe & Supply of Omaha and Industrial Pipe & Valve of Portland have joined the Fairmont Supply family of companies. The Industrial Pipe companies supply pipes, valves and fittings (PVF) and other materials for large industrial, commercial and infrastructure construction projects, along with refrigeration facilities, aviation facilities, utility providers and heavy mechanical. The Omaha location was founded in 2007 and will continue to be led by Paul VanWerden, who has 35 years of industrial distribution experience. The Portland location was founded in 2014 and will continue to be led by Mike Baker, who has over 25 years of industrial distribution experience.
Italy's Prysmian Group To Acquire General Cable For $3 Billion: Prysmian Group and General Cable Corporation announced that they have entered into a definitive merger agreement under which Prysmian will acquire General Cable for $30.00 per share in cash. The transaction values General Cable at approximately $3 billion, including debt and certain other General Cable liabilities, and represents a premium of approximately 81 percent to the General Cable closing price of $16.55 per share on July 14, 2017, the last day of trading before General Cable announced its review of strategic alternatives.
Winsupply Acquires Tacoma Electric Supply: Winsupply has purchased Tacoma Electric Supply LLC, a Washington-based distributor of electrical equipment and supplies. Tacoma Electric Supply has locations in Tacoma and Puyallup. Terms of the purchase were not disclosed. Tacoma Electric Supply is consistently listed among the top 200 electrical distributors in the U.S. and is a recognized brand in the greater Puget Sound market.
Machine Tool Supplier Cincinnati Inc. Acquires 3D Printing Company: Cincinnati Incorporated (CI) and New Valence Robotics Corporation (NVBOTS) have announced the closing of CI's acquisition of NVBOTS. All employees of NVBOTS will be retained and the base of operations will remain in Boston, MA for the foreseeable future. Other terms of the acquisition were not disclosed. CI partnered with NVBOTS as a value-added reseller in 2016 to complement BAAM (Big Area Additive Manufacturing), its large-scale additive machine tool solution. The NVBOTS small-scale 3D printer, rebranded as SAAM (Small Area Additive Manufacturing), offers large-scale designers a "print preview" for large prints and also penetrates new market segments outside the scope of BAAM.
U.K.'s IMI To Buy Bimba For $198 Million: London-based IMI Inc. — a major U.K. supplier of fluid power products — announced that will acquire Bimba Manufacturing, a supplier of pneumatic, hydraulic and electric motion solutions headquartered just south of Chicago in University Park, IL. IMI states that the purchase price is $198 million and that the transaction is conditional on merger clearance and approval by Bimba's employee stock ownership plan, both of which are expected to happen in early 2018. IMI plans to integrate Bimba into its Precision Engineering division — with the acquisition nearly doubling that division's U.S. Industrial Automation business.
FCX Performance Acquires Texas' Basin Engine & Pump: FCX Performance announced Dec. 18 that it has acquired Basin Engine & Pump, based in Midland, TX. Basin, one of the premier pump repair houses in west Texas, will maintain its identity in its marketplace operating as a division of FCX.
Tech Air To Acquire San Jose's Alliance Welding Supplies: Tech Air, a Connecticut-based distributor of industrial, medical, and specialty gases and related equipment and supplies, announced that it has reached a definitive agreement to acquire Alliance Welding Supplies, Inc., a distributor of industrial gases and welding supplies located in San Jose, CA. Alliance will be operated as a new subsidiary of Tech Air of California. Terms of the transaction were not disclosed.
Winsupply Acquires PVF Distributor Thomas Pipe & Supply: Winsupply announced Dec. 20 that it has purchased Thomas Pipe & Supply, a Phoenix, AZ-based distributor of industrial pipe, valves and fittings. Terms of the purchase were not disclosed.
Hodell-Natco Acquires Fellow Distributor Davco Fastener Company: Cleveland, OH-based Hodell-Natco Industries acquired Davco Fastener Company on Dec. 1. The move was a strategic one that gives Hodell-Natco a stronger foothold in the OEM market.
Affinity Tool Works Acquires Centipede Tool, Rebrands As Bora PortaMate: Troy, MI-based tool and workshop accessories manufacturer/distributor Affinity Tool Works has announced the acquisition of Williamsburg, NM-based Centipede Tool, and an overall rebranding as BORA PortaMate. Centipede makes the Centipede Support System — a portable and configurable workbench. With the rebranding, PortaMate products and Centipede Tool's workstations will be combined, along with the BORA Tool line, into BORA PortaMate as the main overarching brand for the company. Affinity Tool Works will become a separate division as the exclusive U.S. distributor for HTC, Tormek, Sjobergs and FISCH. The newly-formed brand will also include the launch of a new logo and a new website, www.boratool.com.
Louisville's Air Hydro Power Acquires Birmingham's Powermotion: Louisville, KY-based Air Hydro Power has announced its recent acquisition of Birmingham, AL-based Powermotion Inc. This acquisition included a ParkerStore in Birmingham. With the addition of AHP's product lines, Powermotion will have a complete automation, hydraulic, pneumatic, and hose and fittings offering.