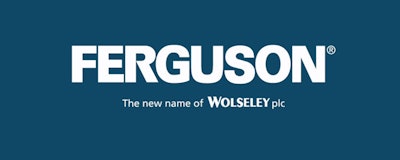 Ferguson announces the additions of Samantha "Sammie" Long as Chief Human Resources Officer (CHRO) and Michael Sajor as Chief Information Officer (CIO). Both roles provide global oversight of IT and HR teams in the U.S., U.K. and Canada.
"I'm thrilled to join Ferguson, a great company where there is such exciting growth potential in our tremendous people and culture across the globe," said Long. "After spending the past few months meeting the teams here, I look forward to steering a global HR function that strategically aligns with our business framework and clearly supports the development of our people."
Long most recently served as Senior Vice President and CHRO for Kellogg, the world's leading cereal company, second largest snacks company and a leading North American frozen foods company. In this role, she was responsible for oversight for the global HR function and the effectiveness of HR programs across 180 countries.
Long has a reputation for developing the capabilities of individuals and teams that deliberately enable business goals. Under her leadership, Kellogg was recognized by Diversity Inc. Top 50 Companies for Diversity, Forbes America's Best Employers, Working Mothers 100 Best Companies and NAFE Top Company for Executive Women, Black Enterprise Top Companies for diversity and Women's Food Service SOAR award.
Prior to her 14-year human resources career at Kellogg, Long held senior HR positions at Sharp Electronics UK Ltd. and Fujitsu Services Europe.
"I'm enthusiastic about the opportunity to enable Ferguson's 33,000 associates worldwide with new and innovative technologies, empowering us to delight our customers with compelling, efficient and evolving solutions for their changing needs," said Sajor. "I'm passionate about the path we're on, and I look forward to building on my experience to drive strategic vision, operational excellence and transformational leadership within the company."
Sajor was most recently Senior Vice President and Global CIO for Apollo Education Group, where he was responsible for driving delivery of systems, applications and infrastructure (network and security) solutions supporting the University of Phoenix, Western International University, the College for Financial Planning and 12 additional educational institutions globally. His previous experience includes leading large IT programs for Ann Inc. (parent company of Ann Taylor/Loft), Merck & Company, Bell Laboratories, AT&T and Lucent Technologies.