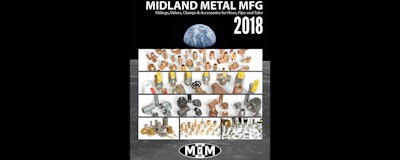 Industrial supplier Midland Metal MFG has announced the release of is new, full color, 2018 catalog.
Midland — a supplier to wholesalers and distributors nationwide focusing on the industrial, hose and fitting, fluid power, fastener, plumbing, oil and gas, heavy duty truck and trailer, marine and OEM markets — ships from their Kansas City, MO headquarters warehouse and their west coast distribution center in Fresno, CA. They also have rep warehouses in Houston and Atlanta.
As a marketing partner, Midland has developed a generic website, private label shipping, bin labels and custom catalogs for its customers, among other tools. More information is available here.
"Midland is committed to helping you build and promote your brand by being the silent partner in the background working to promote your company and provide the technology, sales, & marketing tools you need to succeed in tomorrow's marketplace," the company says. "Our easy-to-use website, online ordering and account management, same-day shipping and customer service continue to make Midland Metal MFG 'too convenient not to buy from.'"
To learn more and request a new 2018 Midland catalog, log onto www.midlandmetal.com or call 800-821-5725.
Midland Metal MFG was featured as Industrial Distribution's Company Profile in its 2017 September/October print issue. View the digital edition here.