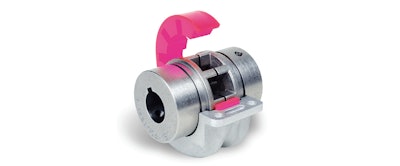 LAKELAND, FL — Each one of us has been touched directly or indirectly by breast cancer. As president of Easy Flex Couplings president Fred Louwersheimer decided to take the company's orange insert (its most common insert) and make it in pink. Now, when Easy Flex Couplings sells a pink insert, a dollar from the sale will be donated to research to help find the cure for breast cancer.
"We will run this program until there is a cure discovered for breast cancer, not just for the month of October," Louwersheimer says. "We can have an impact together in helping find the cure for this horrific disease!"
The GO-FLEX coupling is one of the easiest and least expensive couplings to install, maintain, and repair. A complete coupling consists of two hubs, available in carbon or stainless steel, a urethane split insert (choose from 5 types), and a cover — either a slide over cover held in by a snap ring or a horizontally split cover for extreme torque applications.
Once you have correctly selected and properly installed a GO-FLEX coupling, the split insert is all you should have to replace. Replacement of the insert is easy and your equipment can be back up and running in minutes. Once the hubs are installed, they never need to be moved again. Remove only the cover, replace the insert, re-install the cover, and you are ready to GO!