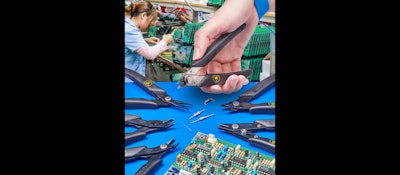 SACO, ME — A full line of precision ergonomic hand tools that include a broad range of specialty cutters and pliers which feature ESD safe handles is available from Xuron Corporation.
Xuron ESD-Safe Cutters & Pliers feature static dissipative hand grips and include Micro-Shear Flush Cutters which produce clean, square cuts and come in a wide range of models with special features such as lead retainers and long tapered tips. Pliers and lead formers also have ESD safe handles and come in many models for performing specific tasks.
Ideally suited for electronics assembly and repair, Xuron ESD-Safe Cutters & Pliers are all ergonomically designed with optimum leverage, comfortable rubber hand grips, and Light-Touch return springs. The ESD-Safe hand grips have a 106-109 ohms surface resistivity and conform to ANSI/ESD.S20.20 and DOD-HDBK-263 Specifications.