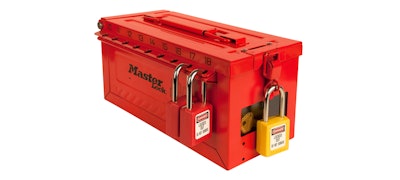 MILWAUKEE — Master Lock Safety Solutions has introduced a new series of group lock boxes. All three models of the S600 series — S600, S601 and S602 — offer many significant benefits, including a clear, impact-resistant window that allows users to see keys are secured inside the box during a group lockout.
Manufactured from 430-grade stainless steel, these boxes are coated with a heavy-duty powder to provide maximum corrosion resistance and protection for all types of weather. Drain holes on the bottom offer an added safeguard by preventing rainwater and other liquids from accumulating inside.
Available in two sizes, the stackable design facilitates storage and simplifies the transportation of multiple boxes. Flanged lockout holes assist with lock attachment and 18 numbered holes make it easy to identify lock ownership. A slot on top lets users drop keys into the removable key cup.
The S601 includes an additional side window to view unused locks inside the box. When locks are stored inside, the window allows lockout participants to know if all lockout points are secured. The S602 is the largest of the three models and includes a rewriteable tag so users can temporarily mark the box with specific procedure or machine information. All three models have tooled holes on the front panel, allowing for the riveting of permanent brass or black anodized aluminum identification tags.
To order a S600 Series Group Lock Box, contact your local dealer or representative or visit www.masterlock.com for more information.