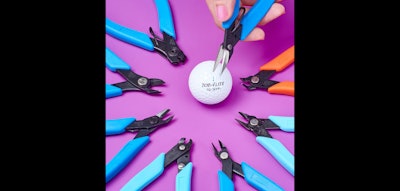 SACO, ME — A full line of precision wire preparation tools for cutting hard wire, Kevlar insulation, reaching into tight spots, or cutting component leads and flush cutting cable ties is available from Xuron Corp. of Saco, ME.

Xuron Precision Cutters are made from high carbon steel with a non-glare black finish, have soft rubber hand grips, Light Touc return springs, and Micro-Shear by-pass shear cutting. Designed for specific jobs, the Model 2193F Hard Wire Cutter leaves a flat end of both sides of the cut, Model 9180 Aramid Fiber Scissor has a serrated head for gripping slippery fibers, and the Model 2275 Cable Tie Cutter leaves a smooth flush cut end.
Suitable for a wide range of electronics assembly and repair applications, Xuron Precision Cutters include the Model 9100 Oval Head Micro-Shear Flush Cutter for soft wire up to 12 AWG, Model 420 Angled Head with a 55 degree angled cutter for improved sight lines, the Model 635 Shear Rise Cutter that flush cuts leaving a 0.030" stand-off, and the Model 170-IIF Flush Cutter with a low-profile lead retainer that holds cut off bits of wire.