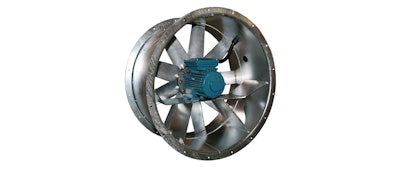 FAIRFIELD, OH — Howden American Fan Company, a manufacturer of industrial fans and blowers, announces a wide range of fans ideal for the challenging marine and offshore environments found in yachts, oil platforms, cruise ships and commercial vessels. Howden offers durable and corrosion-resistant fans for human habitability and machinery subcomponent systems, including cooling, exhaust, and combustion, as well as process functions.
Durable construction, high efficiency, IEEE45 rated motors and suitable marine electrical connections are absolutely critical characteristics for marine fan reliability. Howden fans ensure the best combination of corrosion and chemical resistance, thermal protection, and weathering performance. Their corrosion resistant features can be further customized to include an all stainless steel construction or additional layers of corrosion protection to reduce maintenance in hard to reach areas or extend product lifetimes.
JM Tubeaxial Fans and JMG Vaneaxial Fans are ideal for engine room ventilation and accommodation room HVAC systems. They feature a robust design, superior corrosion resistance, and a direct drive motor. The JM and JMG fans include an adjustable pitch feature that gives users the flexibility to make any necessary changes to flow or pressure. Howden also offers cast aluminum centrifugal blowers including its AF line. Cast aluminum blowers area compact, rugged, lightweight and rustproof cast aluminum housing that are a great choice for small marine spaces.
Howden's complete range of engineering validation services ensures that all customers receive the most appropriate product for their particular application. Howden's marine experts offer finite element analysis (FEA) modeling, computational fluid dynamics (CFD) calculations and 3D computer-aided drafting (CAD) to ensure the product conforms to customer needs.
Howden also supplies all required fan documentation, conducts performance, noise and other testing and offers on-site service, troubleshooting and maintenance and repair of units.