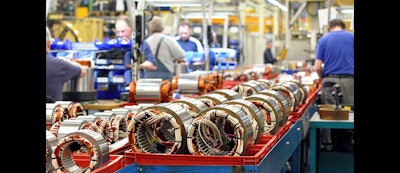 LONDON (AP) — Official figures show that industrial output across the 19-country eurozone ended the third quarter on a weak note but still finished 0.4 percent higher during the period.
Eurostat, the European Union's statistics agency, said Monday that output fell by 0.8 percent in September from the month before. The decrease was more or less in line with market expectations following a 1.8 percent monthly advance in August.
Germany, Europe's biggest economy, was behind the moves in both months. A 3.4 percent advance in August was followed by a 1.9 percent decline in September.
Analysts said the summer months can often be volatile given plant shutdowns during the holiday period.
Figures Tuesday are set to confirm that the eurozone economy grew by a quarterly rate of 0.3 percent in the third quarter.