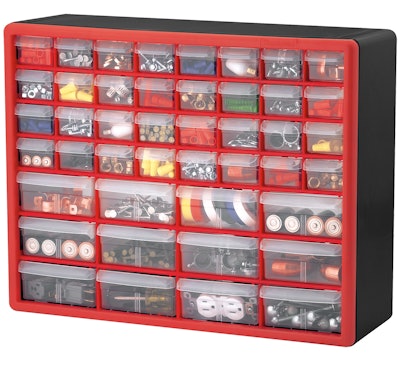 AKRON, OH — Akro-Mils has introduced the expansion of its line of plastic storage cabinets with the addition of a red and black color option for two models.
The new Red/Black color option is available for the 10126 26-Drawer Cabinet (20" L x 6-3/8" W x 10-1/4" H) and the 10144 44-Drawer Cabinet (20" L x 6-3/8" W x 15-13/16" H). In addition to the new Red/Black models, Akro-Mils' Plastic Storage Cabinets come in five Black models with various assortments of large and small drawers.
These strong, versatile storage cabinets are the ideal solution for organizing and protecting loose items. The cabinets are made of a rugged, high-impact polystyrene frame, and nearly unbreakable clear drawers. The interlocking cabinet frame and face ensure strength and durability. The cabinets stack securely and are wall-mountable. A limited number of drawer dividers are molded on to the back of each cabinet (additional dividers are sold separately).