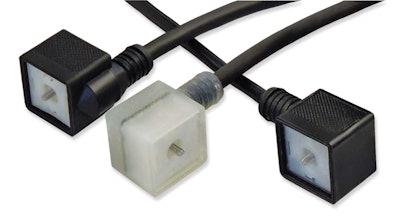 YOUNGSTOWN, OH — Canfield Connector has received Underwriters Laboratories (UL) listing for a wide range of its 5F and 5J molded solenoid valve connectors, the first in the industry with integrated gaskets.
The UL listing confirms the products' performance and safety features and represents an important benefit for customers who wish to achieve or maintain UL listing for assemblies or machines that use the connectors.
The connectors are available in a variety of sizes and wire lengths and with options for indicator lighting, surge protection and other features. An IP67/NEMA 6 environmental rating is standard.
The 5F and 5J connectors are made in the U.S. under the Canfield Industries quality system that is certified under ISO 9001/2008.
Canfield Connector, based in Youngstown, OH, manufactures DIN-style connectors, sensors, timers and other devices that power and sharpen the performance of solenoid valves used to manage fluids, air and other media. Canfield Connector products are used in systems for industrial climate control, water distribution, carwashes, water spraying and many other activities that rely on precise and reliable air or fluid management.