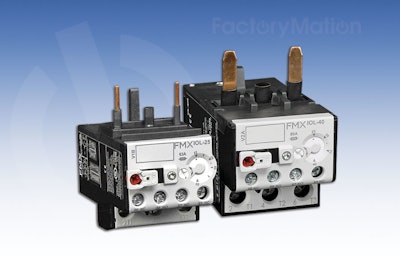 CANTON, GA — FactoryMation has announced the recent product line expansion of FMX overload motor controls. FMX motor controls provide customers with a product line rich in features and versatility while maintaining quality and longevity for long lasting durability in a wide range of applications.
FMX's overload motor control product offering now includes 2 pole overloads for miniature and standard size contactors. Miniature overloads are available in amperage ratings of 0.28A up to 32A for single phase applications with 1/3 to 15HP ratings. Standard overloads are available in amperage ratings of 0.28A up to 80A for single phase applications with ¾ to 60HP ratings.
FMX offers a full range of standard and miniature contactors and overloads, manual motor starters, and enclosed motor starters. Standard contactors and overloads are available from 9A up to 300A, 3/4HP to 350HP, and coil voltages up to 600VAC. Miniature contactors and overloads offer 3 and 4 pole models, from 6A up to 25A, 1/3HP to 15HP, surpassing its closest competitors. Manual motor starters are available in 16, 32, and 65A frame sizes, and 1/3HP to 50HP. Enclosed motor starters are offered in Type 1 and Type 4/4X combination and DOL models. All FMX motor controls offer a wide selection of accessories and come standard with a 1 year manufacturer's warranty.