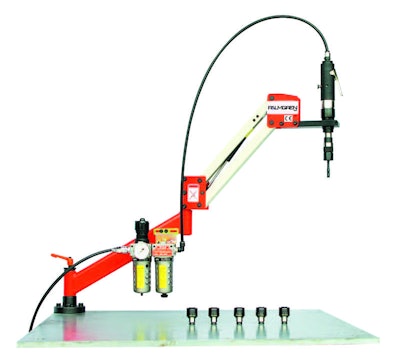 NAPERVILLE, IL — Palmgren's Parallel Arm Tapping tools make tapping fast and easy. The use of a parallel arm tapping machine will generate savings through improved operator utilization, reduced set-up times, reduced
material handling, and improved material flow.
Customers can select the pneumatic tapping arm system, motor and tap holder that best meets their needs. The Quick-Tap system features a working area reach of 37 inches and is best suited for small and medium size taps.
The Shop-Tap is the choice for general purpose tapping and has a working area reach of 62 inches. With a working area reach of 55 inches, the Production–Tap can be used for a wide range of general purpose to heavy duty tapping.
All three have variable mounting capabilities. For more information, call 800-827-3398. Palmgren is a C.H. Hanson brand.