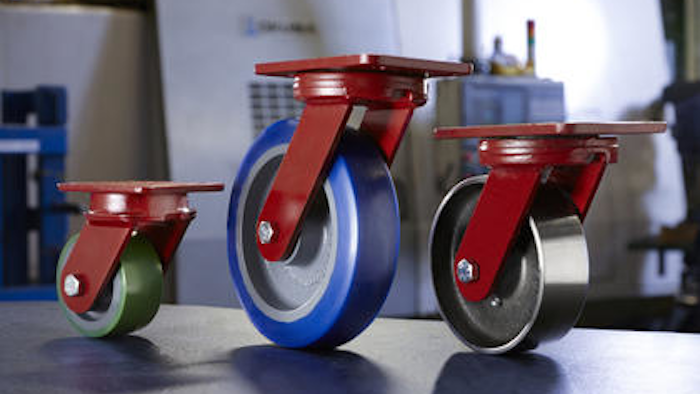 HAMILTON, OH — Hamilton Caster has introduced Spinfinity - a new line of heavy duty maintenance-free casters. Incorporated into the swivel kingpinless construction is special cnc-machining to host a large internal seal. The seal is made from Nitrile butadiene rubber (NBR) and is completely enclosed inside the swivel assembly. With no outside exposure, the swivel assembly is well suited to keep grease in and contaminants out.
As is customary with Hamilton, the Spinfinity casters boast extra thick forgings and proven kingpinless swivel technology for superior durability over the life of the casters. The top plate and inner raceway are one forged steel piece, not a weldment, providing unmatched strength for shock conditions. The raceways are CNC-machined and then hardened to a uniform depth. These processes assure a smoothly swiveling caster under heavy loads.
The Spinfinity lineup is offered in three popular heavy duty series:
The ZFWH Series features 2" wide wheels, the industry's most popular 4"x5" mounting plate, and is rated up to 2500 lbs. per caster.
The ZFHS Series also features 2" wide wheels but with a larger 4-1/2" x 6-1/4" mounting plate and carries up to 3000 lbs. per caster making this the highest rated maintenance-free kingpinless caster in its class.
The ZFFM Series rounds out the Spinfinity lineup and offers 3" wide wheels with the same 4-1/2" x 6-1/4" mounting plate and is rated up to 3200 lbs. per caster.
All Spinfinity Series casters are finished in red crimson and wheel bearings are exclusively double sealed precision ball bearings. Select from ten different wheel choices and in-stock swivel lock and brake options.