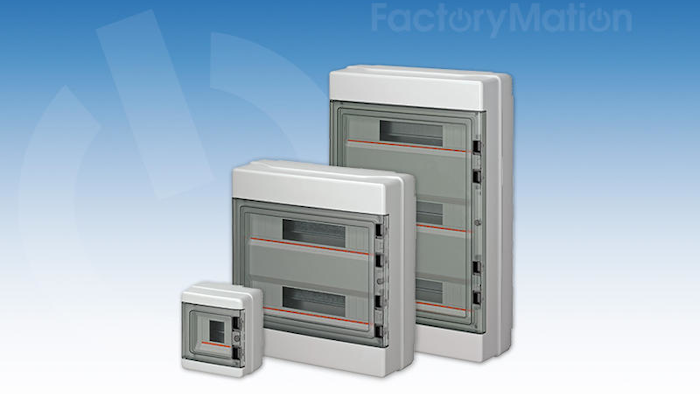 Canton, GA – July 2015 – FactoryMation is excited to announce the recent addition of FMX's new modular component enclosures. FMX modular component enclosures offer a versatile solution for mounting and installing industrial components.

FMX modular component enclosures are designed to fit a variety of industrial control products including supplementary protectors, SG2 programmable relays, and other DIN 43 880 standard profile devices such as timers, counters, and solid state relays. Mount up to 54 units on a pre-installed galvanized steel DIN-rail system. A hinged, reversible translucent door opens 180° to provide flexible installation. FMX modular component enclosures are made of a high quality halogen free technopolymer material and offer an IP65 protection rating. Priced from $15.

FactoryMation is a nationwide top supplier of many quality industrial control products including Enclosures, AC Drives, Motors and Motor Controls, Relays, Sensors, and more. With an expansive distribution hub that houses over 40,000 products along with affiliates located nationwide, FactoryMation offers prompt shipment of a vast selection of products. FactoryMation offers many value added services to assist consumers in the tasks associated with the industrial controls industry and are backed by a knowledgeable support staff for all customer service and application needs. For more information, or to request a catalog, see: www.factorymation.com or call 1-800-972-0436.