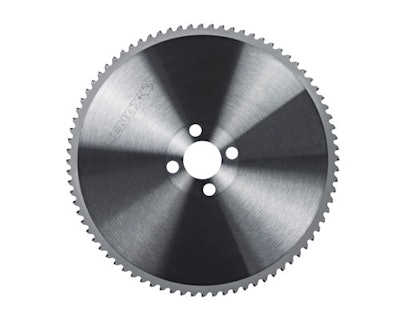 EAST LONGMEADOW, MA — LENOX announces the expansion of the CircTech Precision platform with the new CircTech Precision CM200. LENOX entered the precision circular saw market in 2014 with the launch of the CircTech Precision CM, designed for optimum performance when cutting low carbon steel and mild alloy steels. The second blade in the range, the CircTech Precision CM200, is manufactured for tough alloys and tool steels, materials often required by automotive suppliers, heavy equipment and agricultural equipment companies. The combination of both blades will cover the range of the most commonly-used saws and applications encountered in the industrial precision circular saw market. 
The CircTech Precision CM200 offers a number of features that provide users with exceptional blade life, increased cutting rates, and a lower total cost of operations:
Special grade cermet tips to deliver exceptional heat and wear resistance in the target metals.
Precision ground teeth that optimize cutting efficiency and durability in order to resist chipping in tough cutting alloys and tool steels. 
Plates that are expertly flattened and tensioned to deliver superior part finish. 
For more information, visit www.lenoxtools.com.