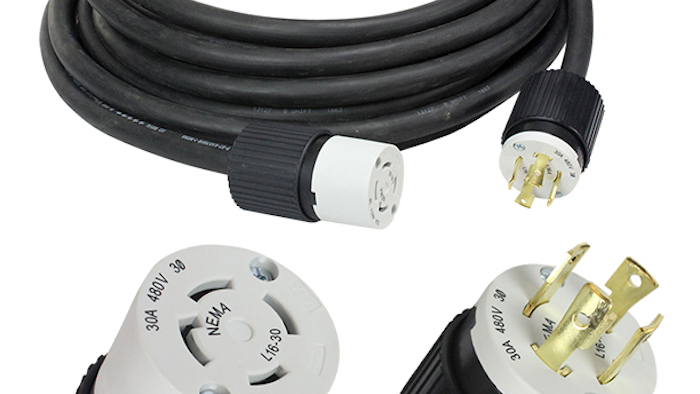 KEMP, TX — Larson Electronics has released a 100' extension cord with twist lock connectors to ensure a tight connection when operating equipment in the work area.
The EXC-100-8.4-30A-L16.30 twist lock power cord from Larson Electronics is designed for 480V 3-phase indoor and outdoor applications. This rugged extension cord is constructed of 8-gauge, 4-conductor wire equipped with a 30-amp rated L16-30 male and female twist lick cord caps. This industrial use extension cord allows operators to extend power to equipment when stationary outlets are not readily available.
This extension cord provides a safe and effective way for operators to extend 480V and power a variety of devices for pant maintenance, power generators, transformers, power distribution substations, construction equipment, and other temporary applications.
Larson Electronics produces a full range of industrial and commercial lighting equipment, explosion proof extension cords, explosion proof plugs and receptacles, light towers, and LED work lights. To view the entire Larson Electronics line of industrial grade lighting, visit them on the web at Larsonelectronics.com, or call 1-800-369-6671 to learn more about all of Larson Electronics' lighting products.