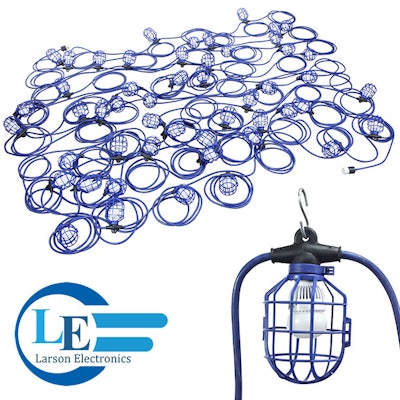 Longtime leading supplier of explosion proof lighting equipment Larson Electronics has announced the release of a temporary tunnel string light set that is designed for high output illumination and daisy chain connections across a total length of 510' away from the power source.
The WAL-SL-51-LED-12.4 temporary tunnel string light set from Larson Electronics consists of 51 industrial grade LED lamps with 10' of 12/4 SJTW cable between each unit, stretching a total of 510' in length. Each globe light is equipped with a high output LED bulb which delivers more light output than a 100 watt incandescent. Each LED light screws into a molded E26 lamp socket and the bulb is enclosed in a bird cage style plastic guard. The A19 style LED lamp produces 1,050 lumens per lamp which provides a total of 53,550 lumens of bright white illumination. Each lamp housing is constructed from lightweight aluminum and fitted with an impact and shatter resistant polycarbonate diffuser. Each light has a plastic mesh guard enclosure that provides protection for the enclosed bulb and a hook eyelet that allows operators to hang these task lights overhead. Each LED lamp has an effective range that approximately covers a 5-8' radius with 10-15 foot candles of light. Multiple stringer sections can be daisy chained together via 5' whips terminated in twist lock connectors, with a maximum of ten stringers daisy chained together. These LED lamps are suitable for wet areas, extremely long lived, resistant to damage from impacts and vibrations, and consume far less energy than standard lamps. This tunnel string light is configured to operate with 277 volts electrical current.
"Since these lamps use solid state LED technology, they can withstand vibration and accidental drops that an incandescent cannot," said Rob Bresnahan with Larsonelectronics.com. "These bulbs provide additional safety measures and time savings, given the low heat production and 50,000+ hour runtime."
Larson Electronics carries an extensive line of LED light towers, portable power distribution systems, explosion proof lights, portable work lights and industrial grade LED area lights. You can view Larson Electronics' entire line of lighting by visiting them on the web at Larsonelectronics.com. You can also call 1-800-369-6671 to learn more or call 1-214-616-6180 for international inquiries.