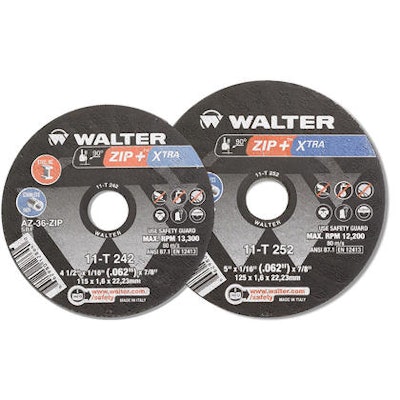 MONTREAL, QC — Walter Surface Technologies has introduced ZIP+ XTRA, a new cutting wheel specifically designed to easily cut through steel or stainless steel in heavy duty applications.
The cutting wheel is a new addition to Walter's ZIP line family of cutting wheels and replaces the existing ZIP+ due to increased performance while keeping the same value. The ZIP+ XTRA features Walter's exclusive, patented rib design to reduce friction on the surface for faster and cooler cutting. It is 1/16" thick, which allows it to last longer, and cut through heavy duty applications with safety and precision. With these added features, this new cutting wheel is an ideal solution for metal fabricators, manufacturers, and contractors who are looking for a fast, smooth, and efficient cut for their most demanding applications.
The ZIP+ XTRA comes in Walter's exclusive protective packaging designed to preserve the wheel's physical properties until ready for use so that performance and safety are kept at the highest standards possible.
Through extensive laboratory test, ZIP+ XTRA was found to provide the most amounts of cuts than other comparable cutting wheels on the market. That is because the ZIP+ XTRA is designed with a new formulation of zirconium grains that are more durable against the toughest materials.
The ZIP+ XTRA is available now in 4 ½" and 5" diameters.