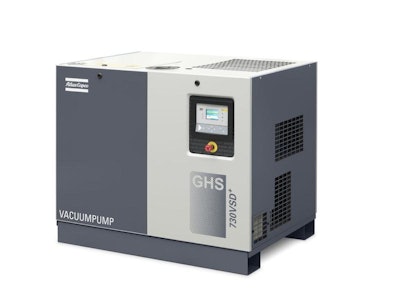 Atlas Copco has introduced the GHS 350-900 VSD+ range of variable speed drive oil-injected screw vacuum pumps for rough and medium vacuum applications. The new range of highly-efficient vacuum pumps dramatically reduces lifecycle cost through innovative vacuum controls and energy efficient variable speed drive (VSD) technology.

The new range reduces energy usage by up to 50 percent with significantly better performance benchmarked against traditional oil-sealed and dry vane vacuum pumps. It features low noise levels and reduced environmental impact due to ultra-high oil retention at all operating pressures, and conforms to energy management and environmental commitments according to ISO 50001/14001.

"The GHS VSD+ is the latest in pioneering technology advancements in the vacuum industry that provides a long list of benefits for customers," said Jerry Geenen, regional business line manager, vacuum solutions North America, Atlas Copco Compressors. "Energy savings is just the beginning. With market-leading oil retention, low noise levels and durable plug-and-play design, the GHS VSD+ also offers fast and easy installation in addition to a cleaner work environment."

The GHS VSD+ range is also equipped with the Atlas Copco Elektronikon® monitoring system and SMARTLINK remote monitoring system for 24/7 service and energy savings monitoring. Atlas Copco plans to extend the range with sizes up to 2,000 m3/hr by the summer 2015 and 4,500 m3/hr by early 2016.

"With the launch of the GHS VSD+, we are bringing more than 140 years of experience from the compressed air business and time-tested technologies to the vacuum industry," Geenen said. "Our vacuum engineers designed the new series of vacuum pumps based on the well-known and durable design principles of our compressors to deliver peak performance at operating pressures commonly found in industrial vacuum applications."

This state-of-the-art technology contributes to Atlas Copco's expanding portfolio of vacuum products designed to meet the needs of customers in a range of markets and vacuum applications from mining, cement, paper, plastics, refineries and food manufacturing, to aerospace, automotive, refrigeration, glass, bottling, canning and woodworking.

To learn more, visit http://www.atlascopco.com/vacuumus/.