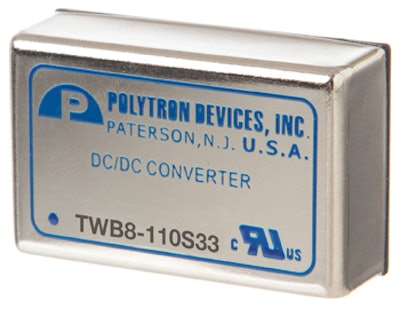 PATERSON, NJ — Polytron Devices' new TWB8 series meets all EN50155 standards for railway safety and delivers 88 percent power supply efficiency. These 8-watt single and dual output DC-DC converters come in a small, 24-pin DIP package of 1.25" x 0.80" x 0.40".
Designed to significantly reduce premature system failure in railway applications, the TWB8 series passes shock and vibration testing for harsh environments. These DC-DC converters meet EN50155 requirements such as input, electromagnetic capability, mechanical, thermal and isolation.
This series also features an optional SMD package, output currents up to 2.4A and a 4:1 ultra wide input voltage range.
For more detailed product specifications, visit the TWB8 product page here.
For ordering, product pricing or sampling, visit www.polytrondevices.com, e-mail sales@polytrondevices.com, or call T. +1-973-345-5885.