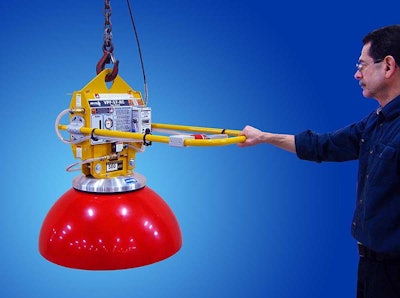 HUDSON, MA — ANVER Corporation has introduced a compact, ergonomic vacuum generator with a vacuum pad attachment that mirrors the contour of dome-shaped, round loads with smooth or semi-textured surfaces.
The VPF Series Vacuum Generator is a below-the-hook system designed for a single operator to safely handle spherical and shallow conical loads. These vacuum generators are offered in electric and compressed air models that feature an adjustable handlebar with built-in controls, an all-welded steel frame, a safety locking attach and release valve, vacuum gauges, and an audio-visual alarm to signal fractional vacuum leakage.
For use with the VPF Series Vacuum Generator, the vacuum pad attachment features a soft replaceable foam seal that grips smooth and semi-textured surfaces without marring. This sturdy pad attachment is suitable for domes or tank heads made from metal, composites, and glass. The pad attachment requires a minimum spherical convex radius of 15" (380mm) or greater, and a recommended minimum concave radius of 24" (600mm) or greater.
The pad attachment is suitable for loads up to 500 lbs. (227 kg), while the standard VPF Series Vacuum Generator is available for loads up to 2,000 lbs. (907 kg) capacity.