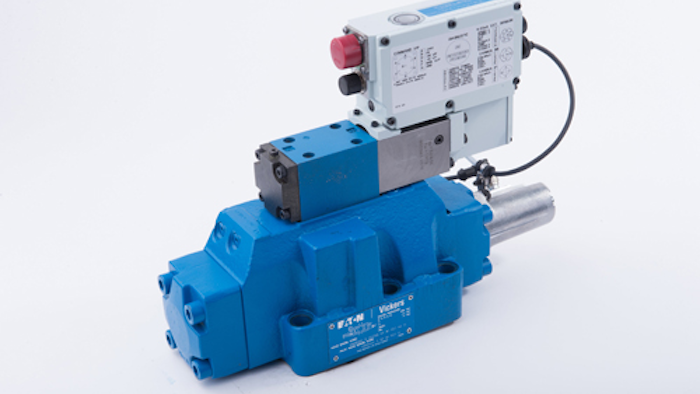 EDEN PRAIRIE, MN — Power management company Eaton recently announced the expansion of its AxisPro product line, now including a two-stage, D08 size design featuring valve position feedback on the pilot and main stage. The larger valve helps simplify machine control for demanding applications including injection and blow molding machines, large press applications, die casting, primary metals, test and simulation and wood processing applications.
Like the single-stage AxisPro valve, the two-stage valves offer on-board motion control, enabling closed loop drive control without the need for expensive motion control cards. Together with the ability to configure the valve using Pro-FX Configure software, an AxisPro valve simplifies machine control for distributors and end users alike. The valve also features built-in diagnostic light-emitting diodes (LEDs) and a CANopen bus that makes system commissioning and debugging easier. 
The new two-stage AxisPro KBH valve features 375 liter per minute (lpm) rated flow at 10 bar pressure, 350 bar maximum pressure rating and 30 millisecond (msec) step response with 100 bar pilot pressure. Additionally, the valve is ambient temperature rated for -25°C to 70°C and IP 65/67 ingress protection rated.
To learn more about Eaton's AxisPro valves, visit www.eaton.com/axispro.