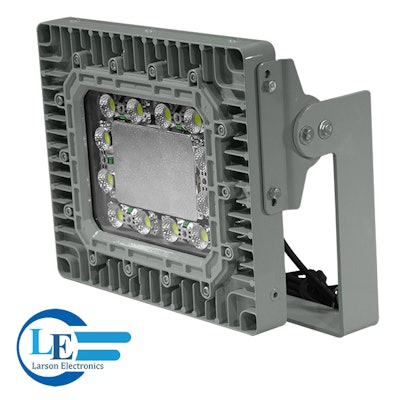 With over 40 years as a leader in the industrial and commercial lighting industry Larson Electronics continues its commitment to providing high grade lighting equipment to specialty markets with the release of a 150 watt marine and outdoor rated LED flood light.
The GAU-LED-160W-RT outdoor rated LED flood light from Larson Electronics provides operators with a powerful and energy efficient alternative to traditional marine and wet location luminaires. This waterproof LED flood light fixture provides 13,000 lumens of high quality light while drawing only 150 watts of power. The copper free aluminum alloy body is powder coated for added durability and an attractive aesthetic appearance. The aluminum body and LED lamp give this light excellent durability and resistance to vibration and impacts. A special heat dissipating design in conjunction with LED technology helps this fixture achieve an excellent 60,000 hour rated lifespan with 80% lumen retention. Light weight and a low profile make this unit an attractive alternative to larger and heavier older fixtures and require much less hardware to install. This light is universal voltage capable and can be operated with 100-277 VAC, 50/60Hz without any modifications. This LED light fixture is IP67 rated, dust-proof, and protected against high pressure jets and temporary submersion. The LED lamp produces 13,000 lumens with a color temperature of 6000K and a color rendering index of 70 which produces colors and details much more accurately than high pressure sodium or mercury vapor luminaries. The GAU-LED-160W-RT offers an adjustable mounting system that allows it to be mounted to any flat surface including walls and ceilings.
"Customers will be amazed at the amount of light produced from a low profile, light weight fixture like this," Rob Bresnahan, with Larsonelectronics.com said. "With an IP67 waterproof construction, this general use LED light can replace any 400 watt metal halide in outdoor applications."
Larson Electronics carries an extensive line of LED light towers, portable power distributions, explosion proof lights for hazardous locations, portable work lights and industrial grade LED area lights. You can view Larson Electronics' entire line of lighting by visiting them on the web at Larsonelectronics.com. You can also call 1-800-369-6671 to learn more or call 1-214-616-6180 for international inquiries.