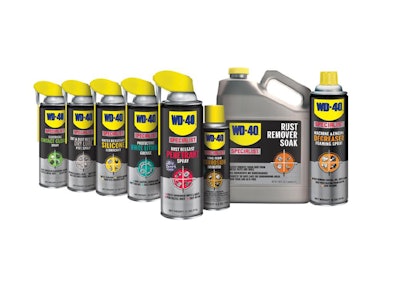 San Diego, CA – WD-40 Company is adding three new products to its WD-40® Specialist® line – a Dirt & Dust Resistant Dry Lube, Machine & Engine Degreaser and Electrical Contact Cleaner Spray. Developed at the WD-40 Company Research and Development Center, all of the new WD-40 Specialist products are 50-state VOC compliant and have proven more effective in key performance areas in American Society of Testing Materials (ASTM) and other industry accepted testing methods. The new products each come with unique benefits:
Dirt & Dust Resistant Dry Lube (10 ounces) – Its specially created formula is ideal for reducing friction and wear, and dries quickly.  An NSF Category H2 product, it also resists dirt, dust and oil, helps release molded parts, and is great for lubricating slides, rollers and hinges.
Machine & Engine Degreaser (18 ounces) – With a powerful stream that sprays up to five feet, it has a deep foaming penetrating action that quickly removes grease, oil, dirt and grime.  Authorized for use under NSF Category C1, it is ideal for use on engines, gears, chains, industrial machinery, power equipment and metal tools, and helps make equipment run smoother, last longer and look like new. 
Electrical Contact Cleaner Spray (11 ounces) – An NSF K2 registered product, it is safe to use on a variety of surfaces like plastics, rubbers and metals.  With its Smart Straw® technology, it can easily clean oil, dirt, flux residue and condensation from circuit boards, controls, switches, precision instruments and electrical panels.
For more information, please visit www.WD40Specialist.com.