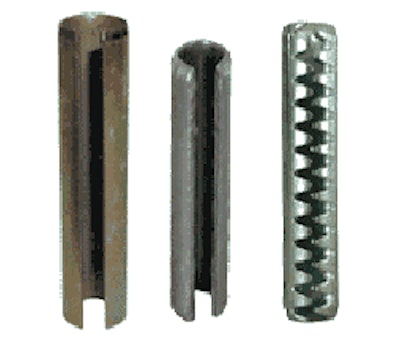 Lakewood, NY - Vogelsang Corporation provides many solutions to challenges facing today's demanding world market. Vogelsang's complete metric product line offer metric spring pins, metric coiled pins and metric tension bushings are all stock product offerings in the USA and Germany. Metric spring pins by their design are stronger than the rolled formed pins. Made to exacting tolerances, Vogelsang's metric pins are engineered to fit standard metric holes, and facilitate proper insertion into many worldwide applications such as agricultural, off-road, wind power, automotive, mining, railway, hydraulic, and material handling.
Slotted Spring Pins: Unlike Vogelsang's RollPins®, metric slotted pins come in both a Heavy Duty ISO 8752 (former DIN 1481) and a Light Duty ISO 13337 (former DIN 7346). These pins are made from a punch press to meet the strength requirements of the ISO specification. Both heavy duty and light duty spring pins are stocked in carbon steel and 18-8 stainless steel. Sizes range from M2 to M50 in diameter, with lengths up to 200MM, depending on the diameter.
Coiled Pins: The ISO standards for Vogelsang's coiled pins ISO 8748 Heavy Duty (Former DIN 7344) and Medium Duty ISO 8750 (former DIN 7343) range from M2 to M20. Both heavy duty and medium duty coiled pins are stocked in carbon steel, with lengths up to 200MM, depending on the diameter.
Split Tension Bushings: Vogelsang produces and stocks tension bushings for Internal (DIN 1498) and External (DIN 1499) applications in metric and imperial sizes, as well as many special purpose bushings. Tension bushings are cost-effective bearings, ideal for high-load/low-speed applications (such as pivot points for hydraulic cylinders and attachments) in harsh or difficult service environments. Vogelsang bushings are used globally by leading manufacturers of earth moving, off-highway, material handling, and mining/agricultural equipment, as well as in railway cars and locomotives.
For more information, please visit www.VogelsangCorp.com.