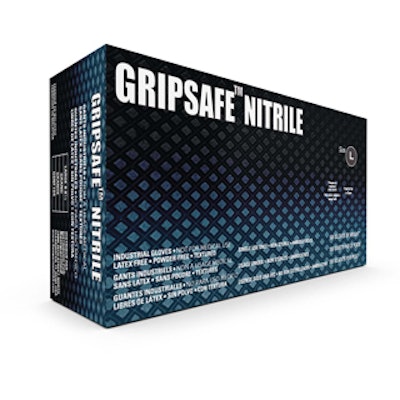 Sempermed Has High Hopes for New GripSafeTM Nitrile Industrial Glove
Clearwater, FL - Sempermed, one of the world's leading manufacturers and suppliers of hand protection, is pleased to introduce its new GripSafe Nitrile industrial glove. GripSafe Nitrile industrial gloves are designed to provide exceptional strength and superior gripping capabilities without the risk of latex allergens. Advanced manufacturing technology gives GripSafeTM Nitrile a softer fit and feel than traditional nitrile gloves, allowing for maximum tactile sensitivity. GripSafeTM Nitrile is ideal for food, safety, janitorial/sanitation and laboratory markets. "We are very excited to be expanding our product offering," said Brooke Rosenberg, Director of Marketing. "The traction we have already gained with our new GripSafeTM Nitrile brand proves a demand for this glove in our occupational health market. We are looking forward to GripSafeTM Nitrile becoming one of the most popular brands within the industrial market." GripSafeTM Nitrile industrial gloves are available in sizes small through extra large. The product reorder numbers are GSNF102 (size small), GSNF103 (size medium), and GSNF104 (size large), and GSNF105 (size x-large). Sempermed is a vertically integrated manufacturer that provides focused sales, marketing, and logistical support to those in need of hand protection.
For more information, visit www.SempermedUSA.com.