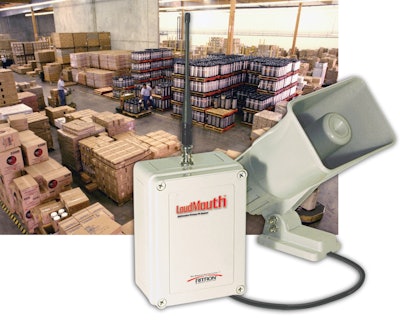 LoudMouth® Wireless PA System Provides Economical Live Voice Messaging For Warehousing & Distribution Facilities
Loudmouth Wireless PA system from Ritron, Inc. (Carmel, IN), allows warehousing and distribution facilities of all types to use an existing portable 2-way radio, base station or mobile radio to deliver "live" voice messages at a distance of up to 2 miles away. It is ideal for varied situations including general paging or announcements, weather emergencies, security announcements, and more. This proven technology is a viable cost-effective solution which requires no trenching and no extensive wiring. It is well suited for locations where a hard-wired PA system is impractical because of the cost and feasibility of routing wire to desired locations, or if the application is temporary. Loudmouth is ideal for material handling facilities of all kinds, especially distribution centers, warehouses, shipping and receiving areas, outdoor staging areas, and more. A Loudmouth Wireless PA system consists of a 1-channel radio receiver, flex antenna, a rechargeable emergency back-up battery, a 110VAC power supply, and a separate PA horn/speaker that attaches to the receiver. The receiver and PA are activated by the 2-way radio , which serves as a microphone that allows "live" voice messages to be delivered to the PA from long range (up to 2 miles). The Loudmouth system installs easily and virtually anywhere – with no trenching or extensive wiring required. A loud PA horn speaker – 95dB SPL@50 ft (ample even in noisy environments) – improves communication, safety/security and productivity. Power supply is included as are rechargeable, back-up batteries. One Loudmouth receiver can support up to 2 separate Ritron PA horn speakers in parallel for additional PA coverage. System allows for multiple paging zones so that portable radio can access more than one PA speaker/zone.
For more information, visit www.ritron.com.