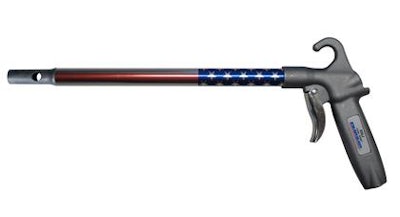 Guardair Corporation Enhances its Popular Long John® Series of Safety Air Guns by Going Patriotic
Chicopee, MA, July 10, 2012 – Guardair Corporation announces that they have expanded their Long John® safety air gun product line by now offering the popular air guns with a patriotic design option. The new patriotic air guns have the same features and functionality as the traditional Long John series with the exception of a new look. The air gun product lines' extension comes as a direct result of user feedback. The Long John safety air guns are the perfect tool for cleaning inaccessible and hard-to-reach areas. Uses include blowing shop floor debris, radiators and engine compartments.
Venturi tip increases thrust and limits static pressure to less than 30 PSI when tip is blocked
Ergonomic, Classic+ pistol grip-style handle
Durable air craft cast aluminum body with hanging hook
Available in all three 12" extension Classic+ models
¼" FNPT inlet
Meets OSHA Standards
For more information, please visit www.guardaircorp.com.