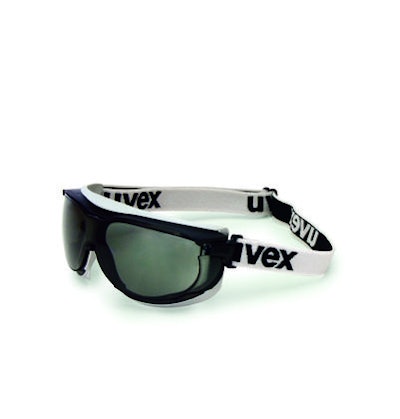 Honeywell Safety Products Introduces Uvex Carbonvision, its Lightest Wide-View Safety Goggle, Delivering Supreme Comfort and Protection
Smithfield, RI- Honeywell Safety Products launched the Uvex Carbonvision wide-view safety goggle, which delivers ultra-lightweight comfort and supreme protection. Weighing only 46 grams, the Uvex Carbonvision goggle is among the world's lightest wide-view goggles available. The style's proprietary Uvex Dura-streme dual lens coating ensures maximum anti-scratch and anti-fog properties for longer lens life, clear vision and improved worker safety, even in the most demanding environments. This high-performance goggle is ideally suited to protect workers from impact, dust and other airborne particles, as well as chemical splash hazards. Constructed with a flexible frame that adapts perfectly to any face shape, Uvex Carbonvision ensures a secure, splash-proof seal around the eyes for optimum protection and a firm fit for all-day comfort. The goggle's soft body is permanently fixed to the frame for easy cleaning and maintenance. Its compact design is ideal for combination wear with disposable respirators and protective caps. The durable, high-quality headband is available in neoprene for use in environments where chemicals are used or in fabric for general purpose wear. A convenient clip makes it easy to remove the headband before cleaning.
For more information, please visit www.uvex.us.