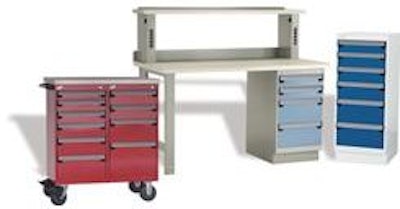 New "L" compact cabinet line at Rousseau Metal Inc.
Rousseau is proud to present its new product line: the "L" compact cabinet. The new line is a smaller and lighter storage system than the heavy-duty "R" cabinet, while being just as efficient. This is a unique product of its size on the market that offers as much flexibility. The new line of Rousseau compact cabinets can be used as a tool box, single, double or triple cabinets, or be integrated under the surface of a workstation.
Central locking mechanism on the cabinet housing means that all drawers can be locked at the same time;
Lock-in mechanism prevents drawers from opening on their own;
Possible to stack cabinets or to anchor side-to-side or back-to-back;
Several possibilities for drawer compartments with plastic bins, partitions and dividers, drawer liners, etc.;
4 housing heights: 24", 28", 34" and 40";
6 drawer heights: 3", 4", 5", 6", 8" and 12";
Capacity: 100 lb per drawer.
For more information, visit www.rousseaumetal.com.