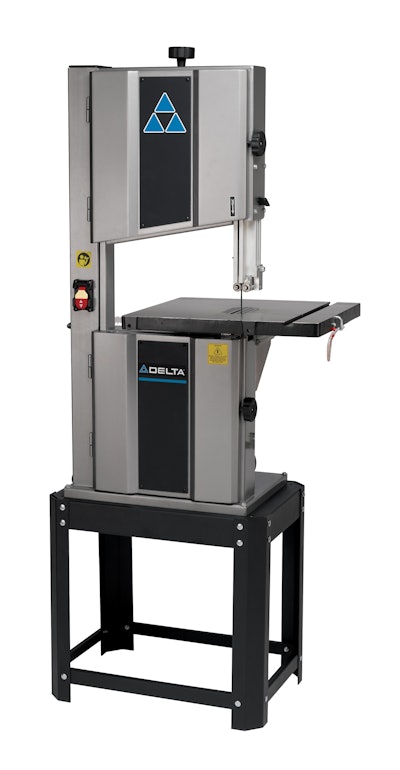 Anderson, SC – DELTA®Power Equipment Corporation, a designer and manufacturer of benchtop and stationary woodworking machinery and equipment, is introducing a premium line of band saw blades under the well respected Timber Wolf® sub-brand. Timber Wolf® band saw blades are made of high quality Swedish silicon steel so the blades last longer than the competition and offer true tracking and no wandering. Their induction hardened front edge ensures optimum blade sharpness and accuracy. The precision milled and set teeth provide professionally smooth cuts and exceptionally tight turns. They are also designed to be used at lower tension which requires less horsepower from your band saw, and Timber Wolf® band saw blades are re-hardened at the weld for long-lasting endurance where other blades most often fail. Each blade package is marked with a series annotation that ensures you select the right blade for the type of work or material you are using.
The Timber Wolf® Band Saw Blade Series by DELTA® initially available include:
PC Series (Positive Claw) – for kiln dried wood

AS-S Series (Alternate Set Special) – for straight line veneer cutting

VPC Series (Variable Positive Claw) – for straight line re-sawing; kiln and air dried wood

HP Series (High Performance) – for detail work

RK Series (Raker) – for detail work.
They will be available in the following lengths: 56-1/8 inches, 72-1/2 inches, 93-1/2 inches, 105 inches, 111 inches, and 142 inches. For more information, customers can visit www.DeltaMachinery.com.