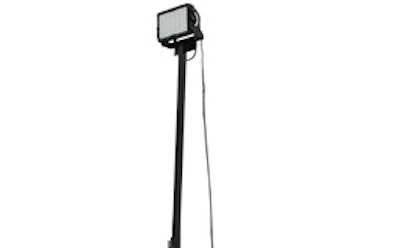 LED Work Area Light- 150 Watts - 30 LEDS - Quadpod Mount - 100 ft cord - 12' Height
The WAL-QP-1X150LED-100 Quadpod Mounted LED Work Area Light from Magnalight produces 14,790 lumens of light capable of illuminating an area 18,000 square feet in size. This adjustable LED light tower is designed for portability and durable operation and ideal for use in demanding conditions. The LED light head on this unit produces a wide flood pattern of light that is ideal for illuminating large workspaces and jobsites. This light is designed for heavy duty use in demanding conditions including emergency services, mining, construction, marine, and industrial operations where durability and reliability is critical. This portable LED light is comprised of an adjustable LED light head mounted atop a four leg quadpod fabricated from heavy duty steel. This adjustable and collapsible quadpod pod can be extended to twelve feet and collapsed to four and a half feet, and includes solid wheels allow the operator to tilt the unit back and simply roll the entire assembly to a new location when fully deployed. The LED light fixture assembly can be removed by releasing the hand knob and sliding the light and mounting bracket off of the center support while the legs can be collapsed, aiding in deployment, storage and transport. The lamp can be easily adjusted vertically and locked into position.
For more information, visit www.magnalight.com.