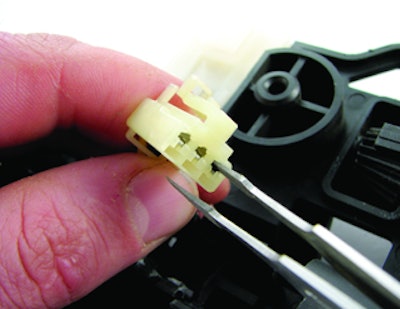 IPA Introduces An Innovative Way To Clean Electrical Connectors
Woodstock, NY – Innovative Products of America, Inc. introduces a new, first-time tool to clean male and female pins on common flat pin electrical connectors. The 3-Piece Diamond Grip Terminal Cleaners (part #8040) feature a highly-durable and abrasive coating for removing corrosion from terminals to enhance electrical connections. "If you have ever worked on a car and wished you had a way to clean the smallest electrical connectors then you will love the new terminal cleaner set," Ian Vinci, vice president of IPA explains. "You can even clean fuse boxes, relays, multi pin harnesses and much more." Each of the three sizes was precision manufactured to fit the most common connectors. To clean, clasp the tips together while gripping a male pin, or separate them to clean inside of a female terminal. A bonus file surface is located on the handle for everyday cleaning tasks. Packaged inside of high quality holster, this professional tool set provides a simple solution to the age-old problem of cleaning hard-to-reach terminals.
The set includes large, medium and small cleaners. Call 888-786-7899 to find a distributor near you.