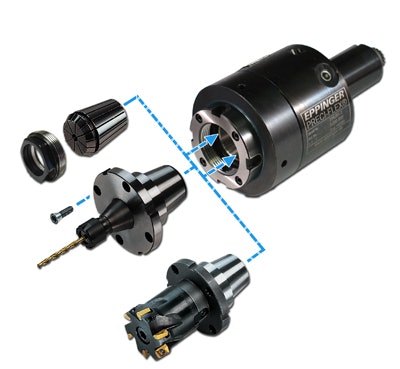 EXSYS Tool, Inc. to Showcase New Adapters for its Modular Tooling System at Mfg4
San Antonio, FL – EXSYS Tool, Inc. has expanded its EXSYS/EPPINGER PRECI-FLEX line of high-precision modular tooling systems to include new Type 02 extended adapters and new Shrink-Fit adapters. The company will showcase these innovative additions in booth 1617 at Mfg4, taking place May 8 – 10 at the Connecticut Convention Center in Hartford, Conn. Able to accommodate most CNC turning centers, PRECI-FLEX is the first tooling system on the market with a single base holder and multiple tooling adapters that utilizes the ER collet pocket, making turning center tooling changeovers quick, accurate and cost-effective. The system's compact design ensures maximum torque transmission and rigidity, resulting in increased machining accuracy and improved productivity. The latest Type 02 adapter adds another dimension to the interchangeable system by featuring an extended collet chuck that will allow the end mill to be positioned closer to the machine spindle or chuck; because of the extended lengths, the adapters eliminate any tool interference issues. The adapters deliver 100 percent clamping and connectivity around a tool's entire shank diameter, while providing the holding power, rigidity and accuracy associated with shrink-fit tool holding.
Visit www.exsys-tool.com for more information.