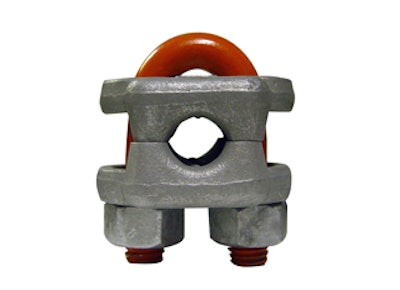 CM Bundling Clip Addresses Pipe Yard and Off Shore Application Needs
Amherst, N.Y., – Columbus McKinnon Corporation, a designer, manufacturer and marketer of material handling products, is proud to announce the CM Bundling Clip. From logging roads to the oil fields, the CM Bundling Clip is built for heavy-duty bundling applications in the toughest industries. When lifting, storing or moving steel tubing, pipes, or precast concrete, its easy-to-assembly U-design allows for fewer parts to drop or lose. The CM Bundling Clip eliminates shear points and damage to wire rope, as well as preventing the choker from going slack and the load spreading after being unhooked.
Additional features and benefits include:
• Ideal for Offshore, Transfer Stations, Pipe Yards, Pipe Line Installations, Transportation, Rail Yards, Logging, Steel Mills, Construction Sites, etc.
• Built for the harsh environments and demanding applications.
• Galvanized and Painted U-Bolt with rolled threads. Interchangeable & replaceable with our standard Wire Rope Clip U-Bolts.
• Forged and Galvanized Saddles come with FORGED USA, Size, CM logo and Trace Code.
• Meets B30.26 plus traceability.
• Performs to rated capacities.
• After inspection, the CM Bundling Clip is reusable.
• Available for use with 3/4", 7/8", 1" & 1-1/8" wire rope chokers.
For more information on this product, please visit the www.cmworks.com/bundlingclip. To view this product in action, check out this video:
If you're having trouble watching this video, try downloading the latest version of Flash Player or contacting your IT department.
Have any comments or questions about our videos? Or do you have a video you'd like to see featured in one of our deployments? Email me at abbigail.kriebs@advantagemedia.com.