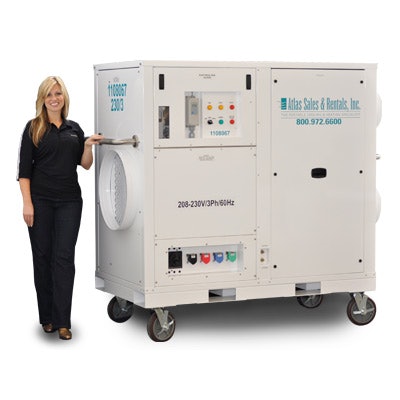 Atlas PACSlim-12 Spot Cooler Features Powerful, Quiet Performance
Atlas Sales & Rentals, Inc. (Torrance, CA) has introduced a new portable air conditioner that provides 12 tons (144,000 BTU/hr) of cooling yet is narrow enough to roll through a standard doorway. The new Atlas PACSlim-12 air-cooled portable unit is only 34" wide and features powerful but quiet operation - making it ideally suited to offices, server rooms, event tents and other indoor or outdoor locations. High-efficiency radial blowers with built-in variable speed motors provide uniform airflow (1.5" external static pressure) across the evaporator coil of the portable cooler. These premium blowers are designed to operate at higher pressure with less turbulence and noise than standard fans. Combined with the use of acoustical insulation in the evaporator section, the blowers ensure an unusually low sound level for a unit of this size. Installation and maintenance ease are additional features of the 12-ton cooler. A weather-tight electrical control panel and Camlock power connectors are mounted on the side for easy access.
Visit www.atlassales.com for more information.