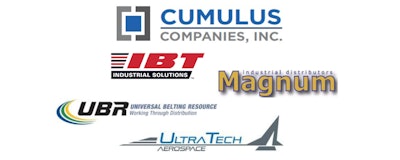 IBT Inc., which has done business as IBT Industrial Solutions, on Monday announced a series of changes in its business entity structure and organizational leadership responsibilities that went into effect April 1, 2018.
IBT announced that it has created a new portfolio company that is formally recognized as Cumulus Companies Inc. (CCI). Cumulus is a privately-held investment and management organization that acquires and supports small to mid-sized business in industrial market segments through three growth platforms: industrial distribution, conveyance belting products and aerospace parts manufacturing. Cumulous is comprised of four companies in its current portfolio, with IBT Industrial Solutions being the largest of them:
Cumulus is led by Michael Flannery as president and CEO, while Stephen Cloud serves as chairman of the board.
Michael Flannery, IBT's President and CEO since 2015, commented, "As our business portfolio has grown, so have the demands to scale up our management focus and desire to accelerate growth, both organically and through increased acquisitions," said Flannery, who had been IBT's president and CEO since 2015. "To support these record growth demands, our new portfolio company was created on April 1st of this year, and is now formally recognized as Cumulus Companies, Inc."
Along with those changes, IBT announced that Jeff Cloud was promoted to president of IBT Industrial Solutions, also effective April 1. IBT said Cloud plans to continue his family's 69-year ownership of the company, which was founded by his grandfather, Forrest Cloud, in 1949.
"This is not only a key step forward and upward for Jeff, but is also a historic step for the Cloud Family," Flannery added.
"I'm proud of Jeff taking on this opportunity to help IBT move toward a third generation of ownership by our family," added Stephen Cloud.
Previously, Jeff Cloud has served the company in field sales, regional management and most recently, vice president of marketing.