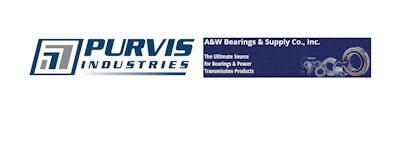 Purvis Industries has announced that effective Oct. 30, it has acquired substantially all of the assets, brand rights, websites, personnel and intellectual property of A&W Bearings & Supply Co.
A&W Bearings & Supply Co. is located in Dallas, Garland and Nacogdoches, TX and has served the North and East Texas markets for over 41 years.
"During that time, they have developed a strong customer following by priding themselves on great customer service and technical knowledge that helps them solve whatever problems and challenges their customers bring," Purvis said in a press release.
"Purvis Industries is proud to be able to come together with a strong independent distributor such as A&W Bearings," said Cameron Barker, Purvis vice president of operations. "They bring a great reputation and a strong team to the Purvis family. A&W Bearings helps us significantly strengthen our core markets and shows how independent distribution continues to make its mark on the industrial bearing and power transmission landscape."
Purvis Industries is based in Dallas, TX and is one of the largest Independent Bearing and Power Transmission distributors in the U.S. with 90 locations covering 15 states.
"We're happy to be a part of the Purvis Team and feel they were the best fit for our people and our organization," said A&W president George Yarbrough. "We both have a strong independent spirit and desire to truly serve the needs of our customers. It's exciting to see two independent companies like A&W Bearings and Purvis Industries bring together their people, products and exceptional service into one great company."