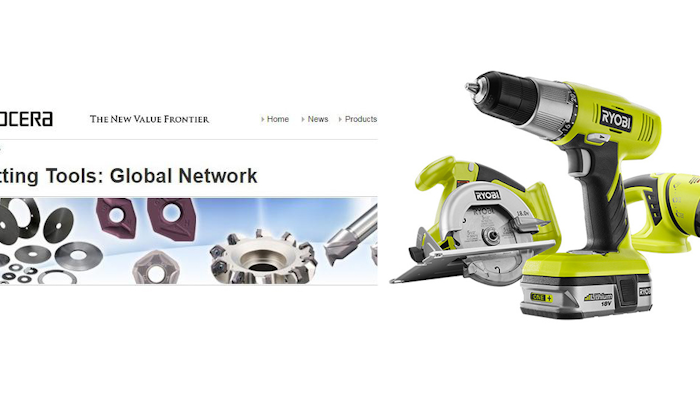 Two months after announcing it will acquire fastening tool maker SENCO, Kyoto-based Kyocera stated Thursday that it will acquire the power tools business of fellow Japan-based Ryobi. The deal is expected to be completed in January.
No purchase price was given, but Nikkei Asian Review reported back in early September that Kyocera aimed to offer $136 million.
The company — best known as a producer of cell phones and ceramics products — said that addition aims to promote diversification and further expansion of its cutting tool business.
"Kyocera has been focusing its efforts on diversifying and expanding sales of products from its core of indexable tools to solid carbide tools, woodworking tools, as well as power tools for the construction industry," the company said in a press release Thursday.
The move is the third notable announced acquisition for Kyocera in the industrial tools market in the past 18 months. In May 2016, Kyocera announced the purchase of Munroe Falls, OH-based SGS Tool Company, at which time it stated a plan to increase sales of its North American cutting tool business by 250 percent by the end of its fiscal year ending March 31, 2019. That transaction was completed this past August. On Aug. 7, Kyocera announced the SENCO acquisition.
"By acquiring the power tool business from Ryobi, which has a strong market position in Japan and Asia encompassing a wide range of products with highly advanced technologies, Kyocera aims to take advantage of synergies with its relevant group companies in order to expand sales globally," the company said Thursday.
Here's a look at Kyocera's global cutting tools network, from the company's website: