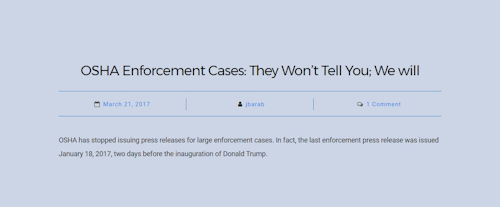 A top official at the Occupational Safety and Health Administration during the Obama administration recently began publicizing penalties levied by OSHA after the agency stopped doing so.
Jordan Barab, who served deputy assistant secretary of labor — second-in-command at OSHA — from 2009 until this year, wrote in his online newsletter that the publication of significant workplace safety violations provided an important deterrent because OSHA inspectors could never hope to visit the millions of U.S. workplaces.
"Instead of a citation just affecting the company that was cited, a strong press release will impact other companies in the same geographic area, as well as companies in the same industry," Barab wrote.
He added that although the previous administration lowered the threshold for issuing a statement and often added more detail to its announcements, the practice pre-dated the Obama White House.
OSHA, however, last published a press release regarding an enforcement action two days before President Donald Trump took office.
Previous reports suggested that OSHA could see an unusual amount of attention from a new administration due to Trump's past run-ins with the agency. Industry groups and some Republicans, Barab added, long argued that OSHA's press releases only served to "shame" employers.
Barab countered that the announcements instead provided crucial "leverage" to the agency and began listing dozens of recent penalties on his website.
"Industry attorneys repeatedly told me and [then-OSHA chief David Michaels] over the past several years that their clients don't really care about the low fines that OSHA issues," Barab wrote. "What terrifies them is being mentioned in a press release."