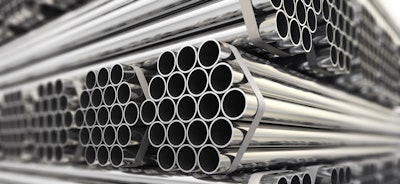 Multiple reports from earlier this month say that a former Motion Industries office manager is accused of stealing nearly 12 tons of metal from the company, and then selling it as scrap, with the company losing more than $125,000 as a result.
The reports say 57-year-old Ronald Gene Clark, of Wichita Falls, TX, was arrested on Nov. 20 on charges of theft of between $30,000 and $150,000.
The Times Record News and Dallas News cite the arrest warrant affidavit saying that this past July a police detective was investigating a theft case of pricey stainless steel tubing from a subject who was selling it as scrap metal at Bell Processing. That tubing was then linked to Motion Industries' location in Wichita Falls. The detective informed Clark — then the office manager at Motion Industries — that he suspected employee theft was the cause.
Reports say the detective also learned that Clark had been selling large amounts of brass during the previous 15 months, with records showing he has sold nearly 24,000 pounds of metal and received $29,543.74 in cash over 133 transactions.
A Motion Industries executive reportedly told police that Clark had no reason to be selling that amount of property on behalf of the company. On Aug. 10, Clark admitted he stole the product, but said he was unsure of how much he had taken or how much money he had made from it.
The reports say Motion Industries completed an inventory investigation and found that the company lost $125,623.81 since May 2015 as a result of the thefts.
Motion Industries is No. 8 on Industrial Distribution's 2016 Big 50 List.
See CW33 NewsFix's Dec. 5 report below: